By Debarati Chakraborty
Photography: Prashant Bhat; courtesy the designer
.
Minnie Bhatt Designs crafts a classic ambience for a contemporary nail salon in suburban Mumbai, almost instantaneously establishing an emotional connect with the user…
The White Door is a plush, warm and inviting nail and beauty salon. High on aesthetics, it is designed around the combination of classic white and rose gold, ably complemented with touches of deep blue and lush brown juxtaposed against undertones of grey.
.
.
The design firm is known for its craft of fusing technical tenacity with cultural identities and local craftsmanship to create contemporary hybrid spaces. The White Door is no different. Its custom-designed arched, rose gold doors set the tone for the overall design scheme right from the entrance.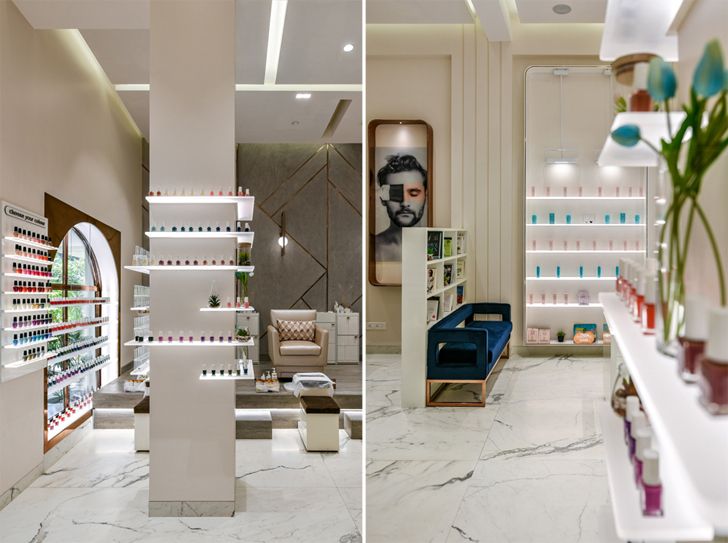 .
.
Indoors, the low ceiling of the mezzanine floor partially opens up to enhance volume, thereby creating a visually expansive space that is dominated by a large manicure-pedicure and nail-art area on an ingeniously raised platform – again a sleight-of-hand that contributes to visual expansiveness. Clever zoning accommodates a beauty room and a hairstyling room besides perfunctory functions.
.
.
A compact staircase that connects to the mezzanine (housing store supplies and staff lockers) is an interesting response to the client's requirement as much as it guides the smart use of space and materials. Bold metallic strips of rose gold form an arresting geometric pattern with grey textured paint to create an impressive backdrop for the salon.
.
.
.
The pedicure chairs in pale pink faux leather bring in the right amount of contrast as inspirational words 'The Art of Self Love' are cleverly mounted on the wall above the nail drying station. The lit acrylic shelves displaying nail polish bottles, and rose-gold plated metal arches add the requisite touch of awe to the overall design.
Flooring partially anointed in Statuario marble tiles and partially in grey texture paint; rose gold finish on stainless steel, wood-finish paint, lustre paint and mirrors… and LEDs for lighting complete the restful ambience of this nail and beauty salon – just the antidote for those seeking complete relaxation and rejuvenation.
Design Firm: Minnie Bhatt Design
Founder & Design Director: Minnie Bhatt
Design Lead: Misbah Kapadia
Location: Bandra West, Mumbai