By Beverly Pereira
Photography: PHX INDIA. Sebastian| Ira; courtesy the architects
Read Time: 2 mins
The Screen House (inset) Architects Bhadri & Snehal Suthar
The Grid Architects designs home units that are visually connected yet subtly separated, with the focus on the responsive, inclusive lifestyle of a large family.
Harnessing the interplay between plant life, water, sky, built form and human life, the Ahmedabad-based multi-disciplinary firm designs an integrated development for a large family in the city, sensitive to both – the need for privacy as much as that for familial bonding.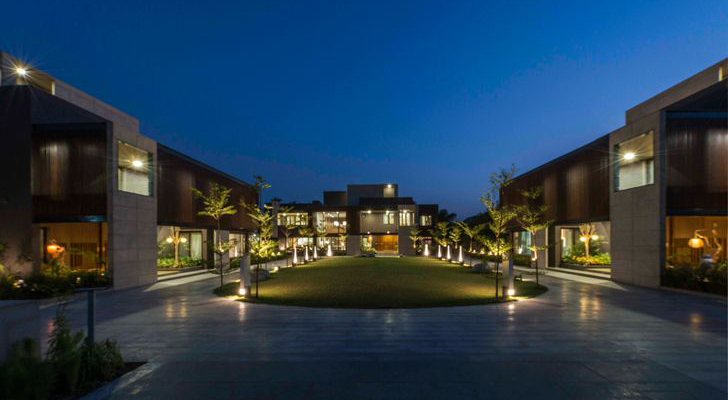 .
.
.
Considering the plot size, sun path and climate, each of the three units serves the needs of the resident family and are arranged in a C-shape surrounding a central green courtyard, akin to an open-air living room of sorts for the families to gather and unwind.
Linked in spirit and design, each home is interlocked with the next to create a coherent whole, while enjoying simultaneous connectivity through the presence of water bodies, semi-open spaces and vegetation. Yet, privacy comes by way of sightlines maintained through plant and tree species similar to those present in the central court.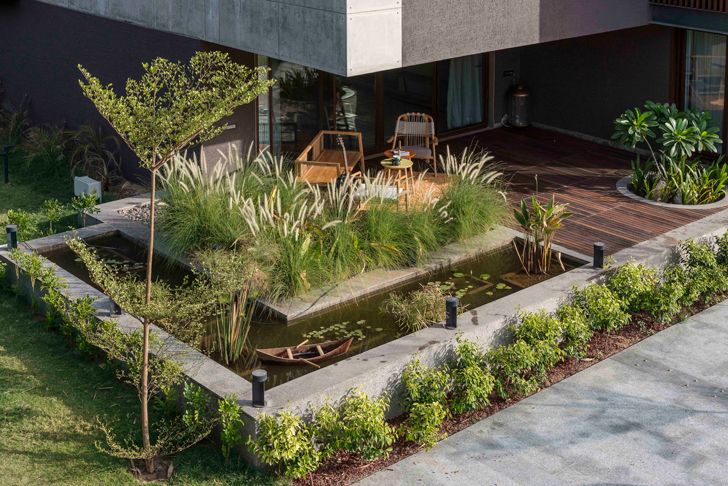 .
.
.
The architectural vocabulary utilises stone, wood, and exposed concrete treated with an earthen colour. Wrapped in a veil of horizontal and vertical timber screens, each unit relies on the use of brise-soleils that protects the main living areas and façade from the regional heat, and yet maintains visual connectivity to the garden whilst allowing for due privacy to each family.
.
Further tying each unit to the next is the serene presence of lily pond inhabited by koi fish at each entrance porch and a welcoming personal patio. Balconies, verandas and wide overhanging and cantilevered eves offer shade from the harsh sun.
.
.
Using a meticulous selection of materials, each of the interiors sports an earthy appeal. Planned with semi-private areas like a vestibule for casual visitors, beyond which lie private spaces like the sunlit prayer room, kitchen and dining areas, each home has double-height floor-to-ceiling windows offering an unhindered view of the garden and water bodies.
.
Besides a basement gym and Jacuzzi, the development encourages outdoor revelry among the resident families, thanks to the presence of an outdoor barbeque, a fully glazed gazebo and a fire pit.
Design Firm: The Grid Architects
Principal Architects/Designers: Bhadri & Snehal Suthar
Design Team: Vishvajit Hada, Meera Suthar, Aanal Shah
Total Built-up Area: 22,007.91 sq. ft