IAnD Exclusive
Open-to-sky Spaces Special
By Vinita Wagh
Renders: courtesy Mahesh Punjabi Associates
Read Time: 1 min 30 secs
.
These rooftop terraces by Mahesh Punjabi Associates harmoniously combine materials and elements to create a versatile backdrop for the outdoors.
Designed to maximize function and views, both the ongoing residential and commercial terraces outline definite contrasts within, balancing the softscape with the hardscape. They feature eye-catching elements that create a focal point and add a bit of flamboyance while the soft lighting of the LEDs, floor lamps and spotlights casts a warm glow.
.
.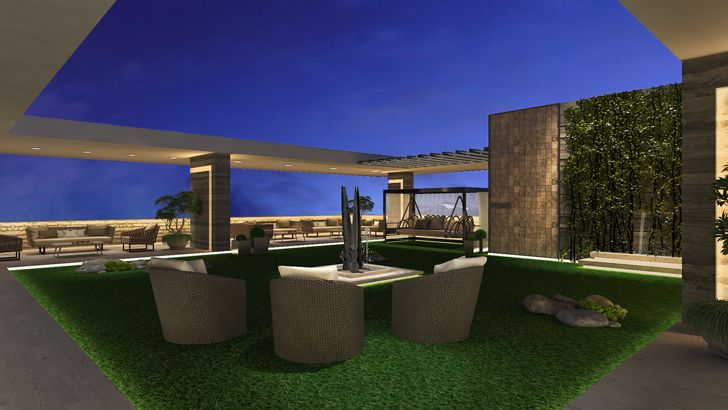 .
Nothing portrays leisure like lounge chairs, a sea facing view and an infinity pool. The residential terrace creates the ideal atmosphere. The hyperbolic structure generates interest while the seating area offers function. The terrace fosters good connectivity to the gym and allows for a continuous experience through its split levels. The 1246 sq. ft. terrace employs the use of stone and artificial grass flooring with granite steps and wooden decking. The use of onyx highlighter, concrete finish raw wall and organic pathways give a unique look and the vertical planters and wall creepers break the visual monotony.
.
.
.
The commercial building terrace covers a large area of 3621 sq. ft. It is a luxury rooftop, both covered and open to the elements, allowing one to enjoy in it year-round weather conditions. Furnished with an outdoor lounge and a garden swing under a wooden pergola, it creates multiple zones for interaction. The use of artificial grass flooring and grey wooden deck lend the necessary contrast while Travertino on columns, the Rimadesio panel and the wooden chiselling panel contribute to the heterogeneous look. The wall creepers and waterfall, coupled with the centre sculpture, bind the space together.
As such, the terraces, designed to match the energy of the users, generate spaces that inspire one (or many) to entertain, unwind and escape the world below.
Design Firm: Mahesh Punjabi Associates
Principal Architect: Mahesh Punjabi