By Savitha Hira
Photography: Anand Diwadkar; courtesy the designer
Read Time: 2 mins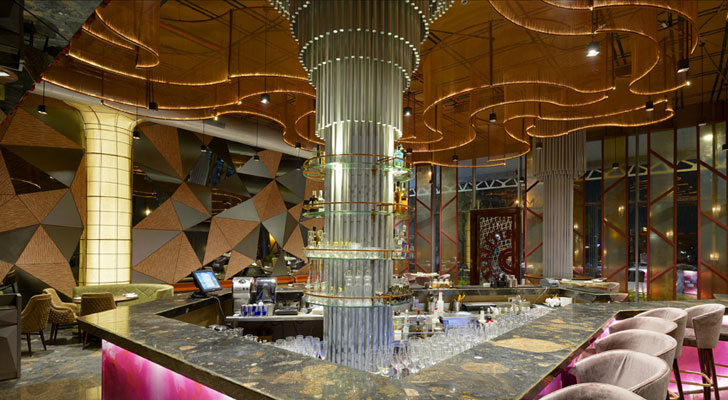 .

It's Sumessh Menon yet again: honing his art of crafting new-age materials into grand hospitality venues. His latest offering is Pune's Masala Bar…
Sumessh Menon seems to have his fingers on the pulse of the hoi polloi and their ever-changing moods and lifestyle choices. His latest offering – the Masala Bar, which opened doors in Pune recently, is a charming space with an ostensible flurry of concentric undulating forms that hover over a trapezoidal bar centrestage. Differential seating is distributed around this central element, which stands out in the evening light with a shocking-pink abstract design on a backlit glass apron that imparts the eatery's aura.
.
Plush materials abound and harmoniously create an ambience that plays with muted hues in a dark shell. Grandeur is averred to at the very entrance, where a 16-feet tall glass façade is modified to incorporate a series of textured glass fins with a customized print.
.
.

Once inside, the lavishness continues as a striking parametric 3D wall that spans an entire side of the restaurant's double-height space like an art collage blending 2-3 materials together. Further, as a distinctive Menon feature - the central bar is coiled around an existing large, rotund, fluted column embellished with silver striations with a bar display suspended on it. It stands as a sort of light installation and constitutes a dramatic focal point of the one-of-a-kind trapezoidal island bar with its polished marble top and visually striking glass apron - touted to be one of the most stunning bars in Pune city!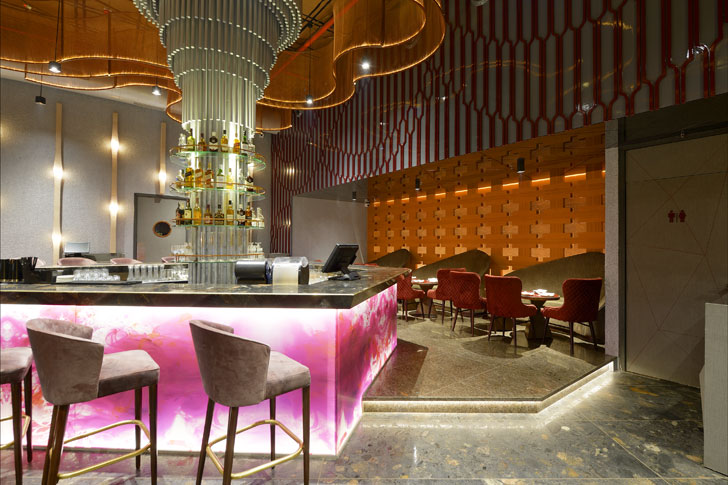 .
There is design ingenuity in every meticulously crafted corner of the restaurant. The exotic stone-finished floor is split into three raised levels, which add that extra dash of character to the entire space. Besides the central bar and its spatial aura, there is the cosy VIP area that has been scooped out beneath a mezzanine wall. Its low-ceiling clad entirely in tinted mirror plays up to its contrasting backlit raw-finished terracotta brick screen wall with a 2D parametric design. Furniture is entirely upholstered in plush velvety fabrics that exude the right amount of oomph.
.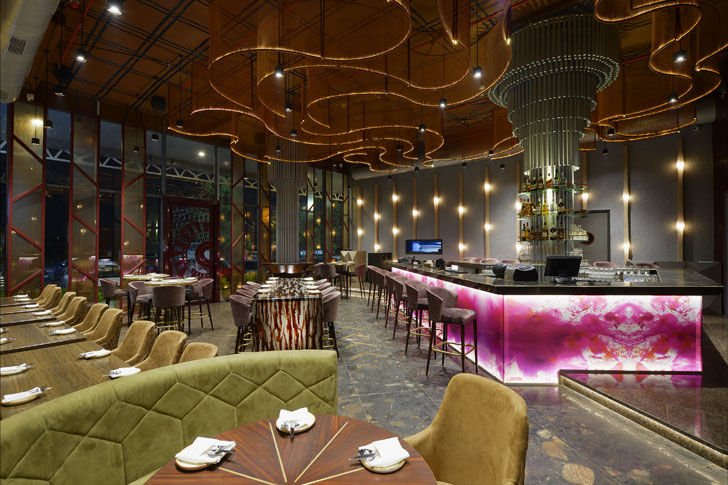 .
Lighting design plays the showstopper here as the wavy suspended mesh light installation, woven with two different metals in a parametric design, envelopes the two existing round columns that are further backlit. "We have endeavoured to incorporate lighting design as part of the interior design element rather than a functional service," informs Sumessh. Thus, one sees columns as light features and an entire double-height wall that displays vertical shoots of acrylic light installations and of course, the elegant wavy mesh lights that cascade down up to 3 feet!
Trendy and offbeat, Masala Bar's is an ambience that will evoke awe and appreciation.
Design Firm: Sumessh menon Associates
Principal Designer: Sumessh Menon
Location: Balewadi High Street, Pune