By Marina Correa
Photography: Tejas Shah; courtesy the firm
Read Time: 2 mins
.
Modi Srivastava & Associates ingeniously designs an experiential gallery-cum-showroom for over 100 varieties of bricks in Ahmedabad…
Since bricks instantly evoke a natural and raw feeling, the same thought was extended towards the choice of materials in carving out this space. A mélange of materials like cement-finished furnishings, perforated metal sheets, wooden flooring and ceiling, pinewood table with woven rattan chairs and natural elements like plants and water bubblers made from bamboo ably justify the sentiment.
.
.
Designed especially for architects and designers to visit with their clients to experience the versatility of the product in terms of colours and textures, the layout is planned to accommodate periodic alterations in product display.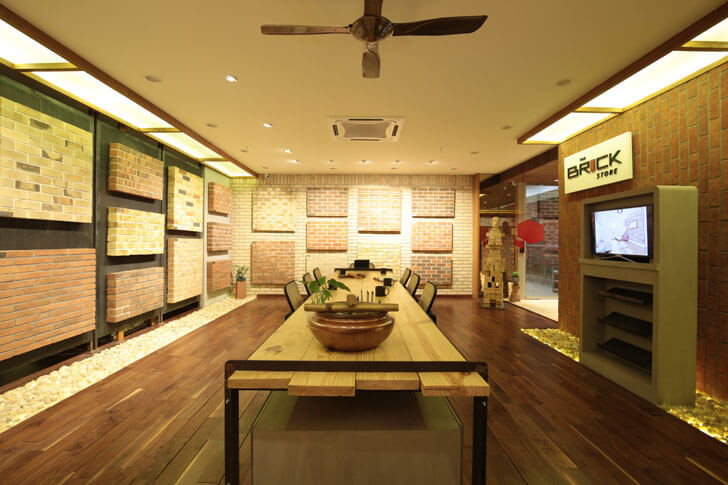 .
Smart zoning speaks volumes about the architects' spatial planning ability, as the entry to the showroom leads to a peripheral display gallery that acts as a buffer between urban chaos on the south and a central gallery towards the north (where discussions are held with visitors). But before reaching the discussion table in the central gallery, one must mandatorily walk along the periphery and experience the product first-hand -- visually and aurally.
.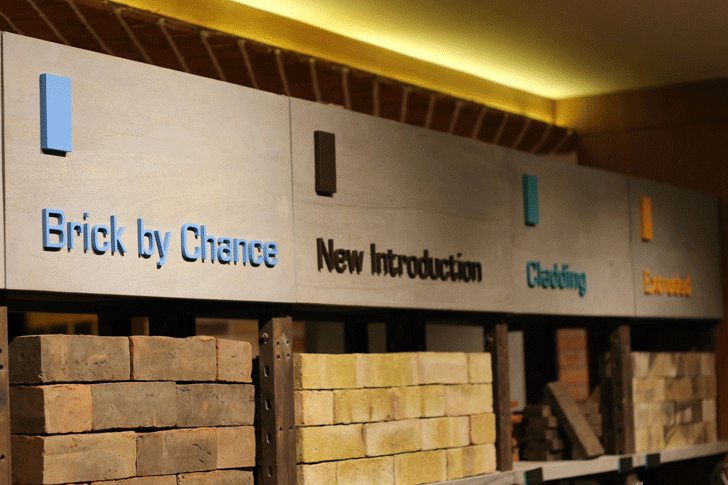 .
The narrative is palpable with a tableau-like setting: light coloured brick pavers are loosely fitted to make a raw sound of bricks rubbing against each other as one walks along the peripheral gallery; free-standing brick display racks; wall mounted brick display panels; brick sculptures and the like pepper the journey throughout the display gallery making it an enlightening experience for a visitor.
.
.
Interactivity is woven in the narrative via a raised triangular island along the periphery, with contrasting dark brick paver flooring and brick ceiling; also sporting a backdrop of MS racks displaying loose bricks, which provide visitors a feel of the material, whilst they take a refreshment break. On the other hand, the central gallery is finished with wooden flooring and wall-mounted brick panels are showcased on a combination of perforated MS sheet and contrasting brick walls.
.
.
One would expect this to be the last place to see transparency but is proved wrong: a visual connection with adjacent cabins is facilitated via perforated MS sheet as display material rendering transparency between spaces.
.
.

And finally quotes by architects, who have waxed eloquence on the timelessness of these terracotta blocks are interspersed throughout the volume – never once shifting the spotlight from 'the bricks'.
Design firm: Modi Srivastava & Associates
Principal architect: Ar. Hitesh Modi
Carpet area: 1,611 sq. ft.
Location: Ahmedabad, Gujarat