IAnD Exclusive
Trends Special 2018
By Beverly Pereira
Photography: Courtesy the designers
Read Time: 1 min 30 secs
(l-r) Floral Designers: Meghaa Modi (Flower Box); Candice Pereira (House of Flowers) & Sanea Sheikh (Botany)
Three floral designers from India reveal how to bring the biggest flower trends for 2018 into your home…
From adding glamour to weddings and intimate soirees, right up to styling different corners of the home, flowers have found a way into every aspect of our life. The turn of the New Year has ushered in a slew of fresh and exciting floral trends. Here's what our floral designers reveal to be the biggest floral design trends for 2018...
Bring the latest floral trends into your home ©House of Flowers
Look on the bright side
Flowers in a riot of colours will trend big this year. Think colours that are bold, but blend harmoniously with each other, says floral designer Meghaa Modi of Bengaluru-based florist Flower Box. While the last couple of years were all about pastels and softer tones, 2018 will see the use of brighter hues, including the Pantone colour of the year, ultra violet, confirms Candice Pereira of Mumbai-based floral design company House of Flowers. The statement is further endorsed by Mumbai-based Botany's floral designer Sanea Sheikh, who - although not one to subscribe to trends — believes that arrangements in all shades of purple, specifically in darker shades, will reign this year.
Flowers in a riot of colours
©House of Flowers
However, it is recommended that to bring this trend into the home, it is best to refrain from trying to fit in and focus on the existing colour palette. Instead, Candice suggests introducing vibrant pops of colour that will accentuate key places, like the foyer and dining table.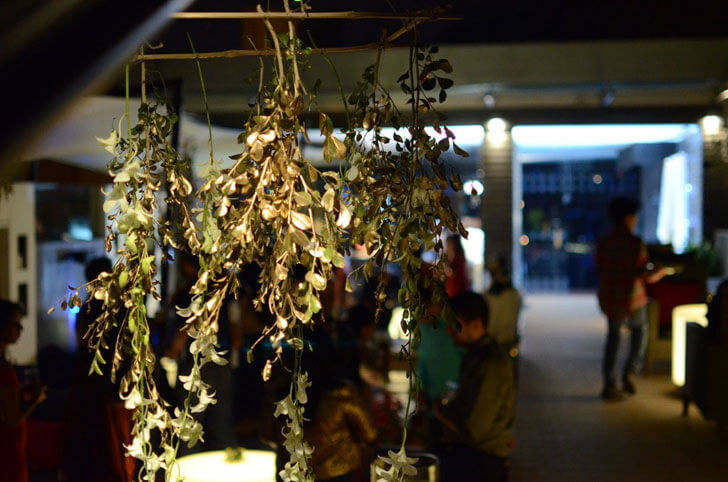 Leaves treated with gold paint will shine bright this year ©Flower Box
Candles paired with flowers will trend big this year ©Flower Box
Let there be light
The trend of using metallic accents, fairy lights and candles paired with flowers is also slated to shine bright. Gold will be used now more than ever to add a touch of glamour to any flower arrangement, informs Meghaa, suggesting one can bring this trend to life by spraying leaves with gold paint or adding gold elements in set-ups.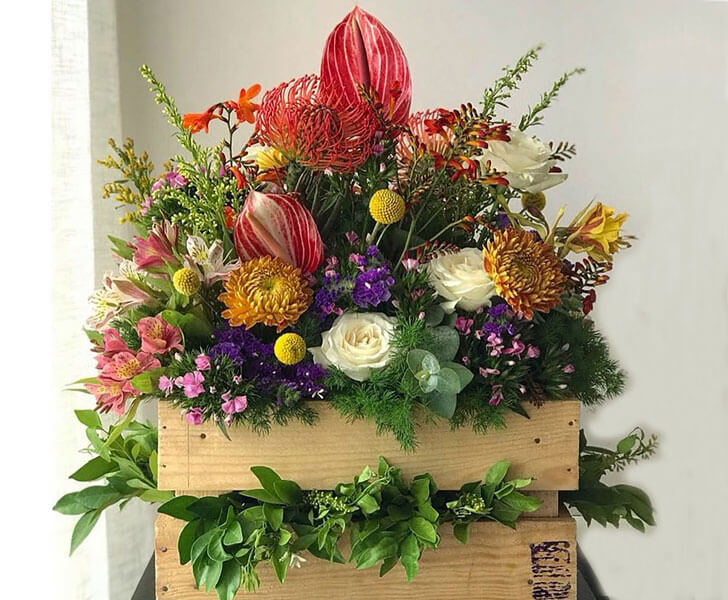 Flower arrangements in wooden crates bring in a rustic touch ©Botany
Industrial chic is in ©House of Flowers
Take the rustic route
Conversely, in terms of vases and containers, we are seeing a lot of industrial-chic elements and marble textures. Both Candice and Sanea agree that the rustic and boho-chic trend will continue to be a favourite this year; flowers arranged in wooden crates typify this look.
Use deeper greens for added texture ©House of Flowers
Go greener
If last season was all about using lots of greens and added foliage, 2018 will see the use of deeper greens added to the mix. Bring this look to the table by adding creepers, vines, branches and succulents to arrangements to create interesting layers and textures, suggests Candice. Besides, says Sanea, arrangements in an all-green palette are something to look out for.