By Rutvi Ashar
Photography: Nayan Soni; courtesy the architects
Read Time: 2 mins
.
Studio TAB designs a cheerful and youthful contemporary abode in Bangalore that revolves around handcrafted wooden furniture from a bygone era…
Very often designers are compelled to design a space around certain elements; this can be attributed either to client's wishes or to their own style. In this case, studio TAB has beautifully incorporated the client's penchant for and sentimental attachment to some traditional furniture pieces that they had lovingly cherished for many years.
.
.
Juxtaposing this predominant traditional feature with modern amenities to suit a contemporary lifestyle, this 2000 sq. ft. home follows a different process of design: each of the traditional furniture pieces was studied, after which a colour palette study was conducted to gauge the tones that work in sync with them. Due to the nature of the brief there was always a threat of either the furniture looking out of place within a modern setup or the décor being too ethnic, thus overpowering the relatively shrunk dynamics of the apartment. Thus, it was important to reach a middle ground and identify the fine line, where the space can exist in harmony.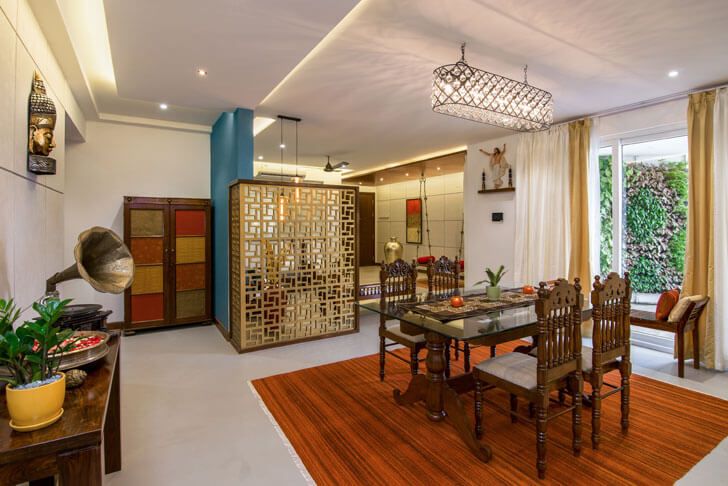 .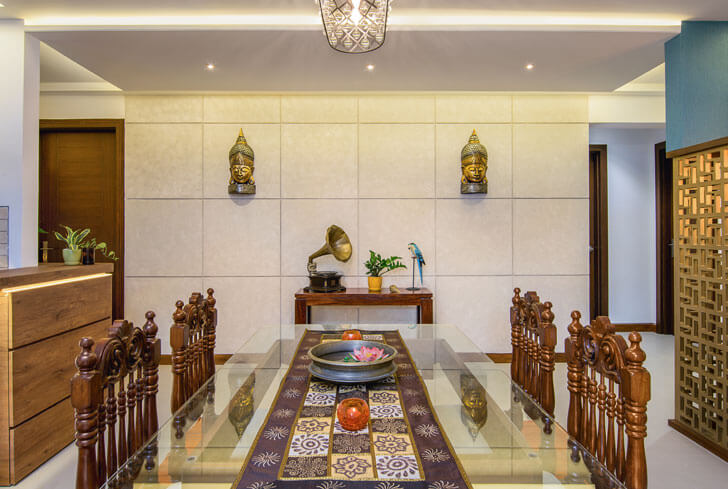 .
And harmony prevails. Setting off the treasured furniture is a neutral palette of rustic grey micro-concrete flooring that mimics the finish on the walls in an open-plan layout. A wooden batten ceiling heralds the entrance foyer, whilst false ceiling in the rest of the home avers to the contemporary nature of the space. Staying in sync with the handcrafted, a jhoola with carved brass supports, a tree-of-life mural in copper finish and a modern screen in antique coated-brass finish, a linen closet finished with pieces of Kanchivaram silk stand out with aplomb.
.
.
Almost like postcards from India, embroidered cushions, paisley-printed upholstery and handmade Athangudi tiles and select vivid hues sustain the thematic. It doesn't come as a surprise then that the walls also have framed pictures of modern-day superheroes and stuffed cartoon characters!
.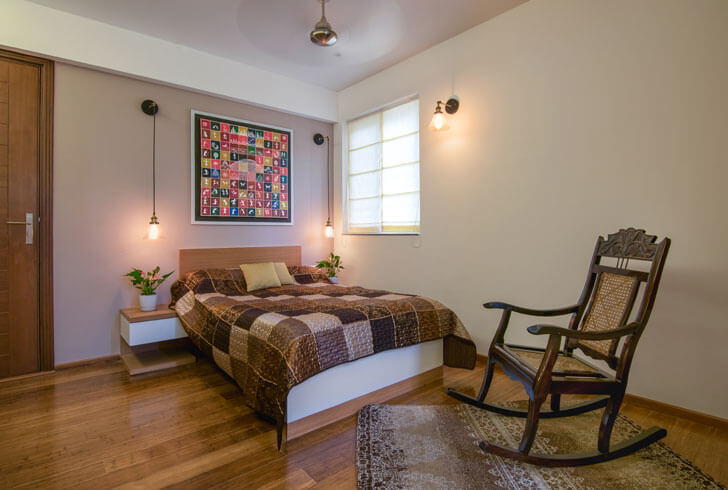 .
Although the designer mentions that to focus on the exquisite handcrafted furniture, the rest of the elements are muted; we feel that the design of this home is as cohesive as it gets. The journey through the two bedrooms, living-dining area, study, entertainment zone and kitchen is kept distinctly youthful and vivacious.
Client: Mrs. Ashwini Mohan & Mr. Amith Sebastian
Architecture & Interior Design: Studio TAB
Principal Designer/Architects: Rahul Das Menon & Ojas Chaudhari
Lead Designer: Tushal Pandey
Design Team: Rahul, Ojas, Tushal
Rutvi Ashar is a young architect with an eye for unconventional details. Her novel take on the essence of spaces makes for a refreshing read. IAnD is a canvas, where she explores world architecture, design concepts and interior projects, building narratives despite being concise and focussed.