Photography: Courtesy IAnD Archives
Read Time: 1 min
Image: Courtesy Dzhemesyuk Design
Take pride in adding a touch of pizzazz to those corners. Here are five great ways to jazz up these oft-neglected nooks in your home…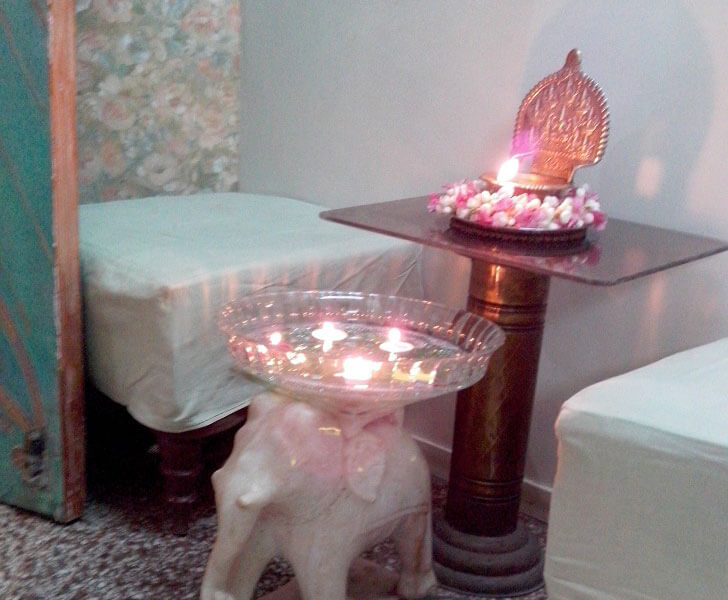 Image: Courtesy Project Designers
Feng Shui expert, Dr. Lizia Batla says, water symbolizes wealth and is a great feature in rooms. Taking a cue from this globally-acknowledged science of well-being, why not place an earthen, marble, wooden or the traditional Indian brass urli filled with water with perhaps a few petals or floating candles to enliven a corner of your living room? It makes for a lovely statement and adds some freshness to the interiors as well.
A corner can easily be transformed into an intimate magical space. And especially so, if it abuts a window. Use some mattresses, cushions and perhaps your favourite book, and the corner becomes a favourite nook in your room!
Instead of bulky sofas or bookcases, try going for space savers and customized lightweight stuff. Like in the picture above, the corner has been utilized effectively, yet, is not heavy on the eyes. With a hint of personalization and a cheerful colour combination, the corner becomes your pride!
Indoor plants are rejuvenating to look at, a healthy and environment-friendly initiative and a very aesthetic way to decorate corners. In many homes, indoor plants are relegated to just the window sills. But feel free with them and dot the home. They make a statement anywhere! This place is the choicest location for the morning tea. As Ar. Rupande Shah agrees, a good way to brighten up a dull corner is through verdant foliage.
There is certain minimally-invasive furniture like porch swings or patio chairs that can be placed in the corner to spice the place up; simultaneously contributing to the act of decluttering. A good option to soak up the heat on a Sunday winter morning or reminisce on a rainy evening!