By Rutvi Ashar
Photography: Courtesy Puran Kumar Architects
Read Time: 2 mins
.
Several points-of-view shape an interior ambience, especially in the corporate sector; Ar. Puran Kumar of his eponymous firm chisels simplicity as the mainstay in the Dow Jones Mumbai office...
Working on the principle of 'inviting' rather than 'scaring off' visitors with an intimidating design and decor, the architect chisels a formal open office for American publishing and financial news firm, Dow Jones in BKC, Mumbai with an approach that is "clear, simple and direct".
.
.
Starting with an open-to-interaction reception that is flanked on one side by the staff pool juxtaposed by an out-of-box, telephone-booth-like break-out area; and on the other by an inviting informal brainstorming café area, the office comes across both, functionally and aesthetically as a comfortable community space.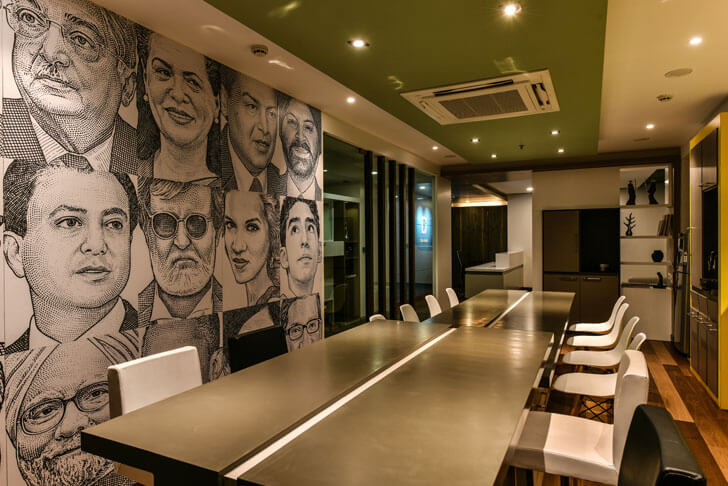 .
Infusing lightness of mood in the humdrum world of numbers, monochrome art in the reception and a dedicated art wall in the cafe capture entities that have been instrumental in the growth and development of the location the office sits in. Politicians, actors and visionaries are represented in the signature Dow Jones stippling art form on a larger-than-life canvas across the length of one wall, effortlessly making it the cynosure of all eyes.
.
.
Designed as a multi-functional space – it acts as a casual meeting zone, cafe and lunch room; even formal conference area - the cafe becomes the go-to social hub within the office. Categorically ambient and with a distinct vibe, its artsy wall engages, but does not distract from the work at hand.
.
Privacy and professionalism meets a casual team-oriented workforce, where a visual connect between the open office layout, cafe and reception allows the space to appear larger and yet maintains a level of privacy essential for smooth functioning.
.
Breaking away from the stereotype of conventional office spaces, the Dow Jones workplace flows seamlessly across the floor plate fostering an overall atmosphere of community working.