Photography: Courtesy rat[LAB]INTERIORS
Read Time: 2 mins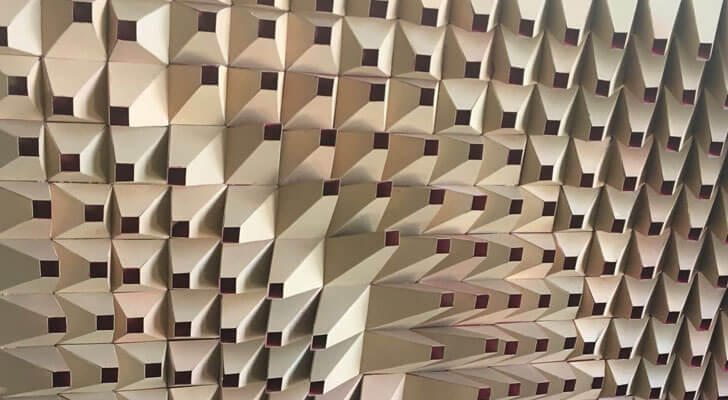 .
Anchal Chaudhary, Partner at rat[LAB]INTERIORS explores art and technology in a process-driven approach that gives body to the
contoured morphologies of parametric design.
Art is usually restricted to aesthetics, while technology is frequently confused with gadgets and tech-environments merely. Interior Design, as a profession, has been predominantly focusing on décor, aesthetics and beautification of elements that bind a space together.
In an attempt to explore complex processes and methods to articulate a spatial experience with innovative means, we have
collated a broad range of unique and exclusively designed art objects articulated as furniture and spatial enhancers under the
Parametric Art Collection 2017.
As fragmented curves bind together and form endlessly fluid surfaces, each object unveils a dynamic story to represent one's lifestyle in a unique way, blending into any orthogonal or organic space. Each piece is carefully designed as visually sculpted monoliths or contoured morphologies in a multitude of joinery techniques and finishes.
The intent is to demonstrate the use of mathematically driven algorithms that transform the orthogonal nature of contemporary furniture or art into fluid forms and curvilinear morphologies. These algorithms have been used to generate formal sculptures that are then constructed from digitally formed timber profiles and painted in weather-resistant polyurethane coating, among other finishing alternatives.
Having launched the design collection 2017 with just twenty exclusive pieces segmented into five generic categories – Stools, Chairs, Benches, Tables and Lighting; we've programmed the design models to use explicit site information and data to fulfil specific criteria and further expand the collection with variable customization. The model's DNA (design code) is capable of producing a variety of unique furniture and art pieces in various shapes and sizes suitable for hospitality areas, hotel lobbies, auditoriums, conference rooms, restaurants, bars, art galleries, retail spaces and residential zones.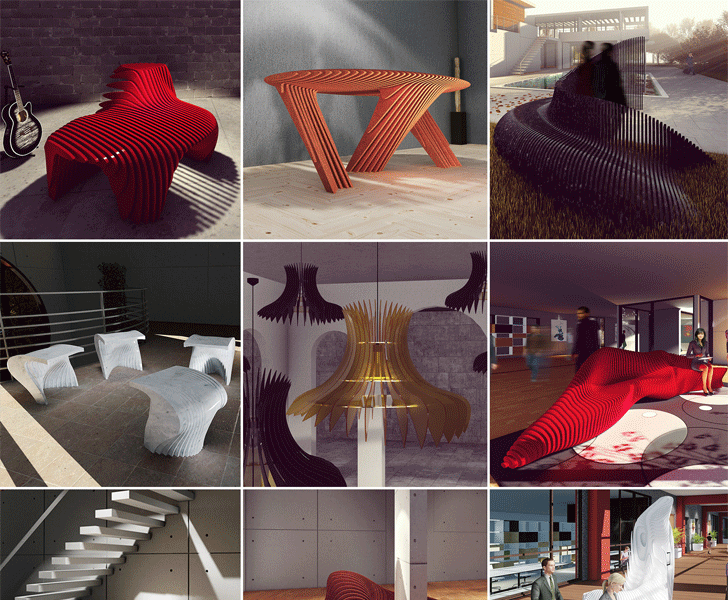 .
Taking off on another sub-trajectory, we've conceived art[X]INDIA - a collaborative initiative to create and promote technology driven art in India.
T
he initiative revolves around creating art for ten creative professionals in India, who've come together to share their work methods and creative philosophies. The art pieces, created thus, in a multitude of forms, empirically or abstractly, represent the ethos of the collaborative artists.
'Sensual Spike' is a three-dimensional art form that emerges variably from a two-dimensional plane to produce a geometrically intricate fluid form. Algorithmically designed, the art-work is made out of 400 unique truncated pyramids aligned at different angles to create a multitude of visual effects from various points of viewing. It abstractly represents a rough variant of sensuality and sex, which can be visually perceived when the art form is viewed upfront.
Anchal Chaudhary is a Partner at
rat[LAB]INTERIORS, a subset of rat[LAB]-Research in Architecture & Technology, started as an initiative by her and Sushant Verma to explore formal intersections of parametric design techniques and interior spaces. The collaborative venture focuses on rational use of technology for design of interior spaces, to foster memorable spaces, distinctive brands and meaningful experiences.