Photography: Courtesy world wide web
Read Time: 1 min 30 secs
Pantone has declared the colour of the year for 2017 and we're delighted to tell you that it's 'greenery'! Here's how you can add the easy-breezy shade to your wardrobe…
Every year, Pantone comes up with a colour of the year that best represents the general attitude and mood around the globe. This year, it has picked 'greenery', a natural, zesty shade of green that evokes a sense of freshness and optimism. The good news for fashionistas all over the world is that the shade lends itself beautifully to all kinds of outfits. So here's how you wear the colour, while looking your stylish best.
A great outfit can work wonders to uplift your mood. So, the next time you're feeling blue, turn to a flowy green dress not only to lift your spirits, but also to ensure that you look nonchalantly stylish. Pair your dress with a broad belt, snazzy stilettos or ankle-length boots (if it is winter) and stylish sunglasses and you have a look that's perfect for a weekend brunch with friends or even a dinner date.
For a casual outing such as a movie, lunch or shopping, opt for a loose casual green shirt and pair it with staple blue jeans and white pants or printed shorts and a skirt in contrasting shades to strike the right balance between cool and classy. Complement the look with close-toed pumps, a stylish tote bag and basic jewellery.
Accessorise
with greenery
The right accessories can go a long way in sprucing up the most basic of outfits. So this year, remember to stock up on green accessories like sling bags, sunglasses, earrings, belts and shoes and team them with your favourite go-to outfits, be it your white-shirt-and-jeans combination, a floral dress or your comfortable shorts and tee.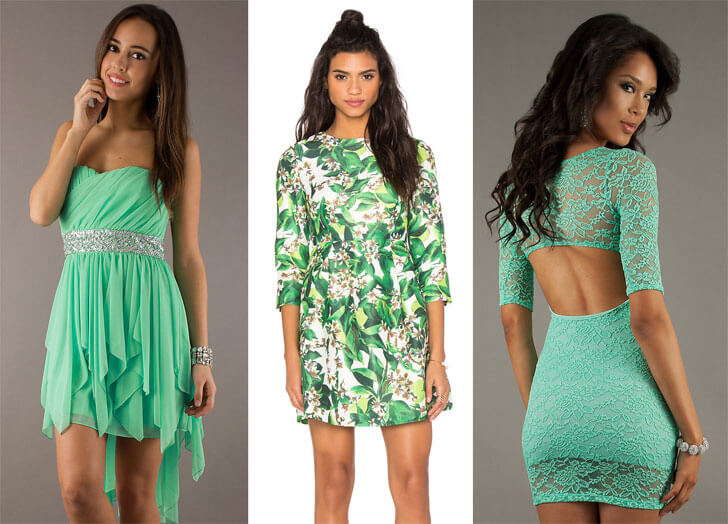 .
So, whether you go breezy with a stylish green summer dress, or chic evening wear, the idea is to make your outfit more vibrant, create interesting focal points or contrast with colours like a bright yellow or a deep red; and watch yourself bloom!