By Rutvi Ashar
Photography: Courtesy MySpace Architects
Read Time: 2 mins
Ar. Alex Joseph of MySpace Architects, Noida talks to us about how interesting exhibition architecture is citing his most recent outing at the Auto Expo 2016, Delhi...
There is architecture and then there is exhibition architecture; the difference being that the latter realises the designer's vision in a mere 24 - 36 hour window. Working with all the consultants' viz. graphic design, audiovisual engineering, digital media, lighting, interior design and content development in such a short span of time to develop an audience experience, company branding and an overall attention-grabbing pavilion is a mammoth task.
.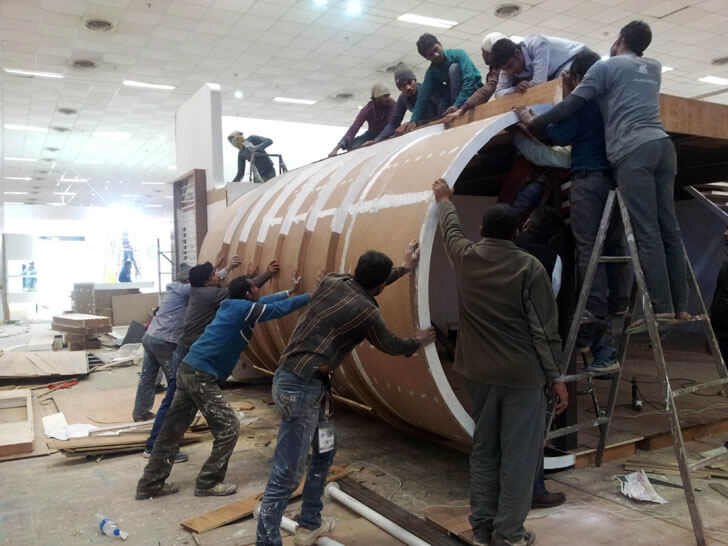 .
Alex,
who recently conceptualised and designed a pavilion for his client Shriram Pistons and Rings Ltd for the Auto Expo 2016 held at Pragati Maidan, Delhi, that exhibition design is an interesting field with massive potential and needs to be explored further by hard-core designers as the result is ready in roughly 24 hours, making it a worthwhile investment of concepts as well as manpower.
.
Cashing in on the advantageous corner stall, the designers developed an 'L' shaped free flowing form that was directly inspired from the pistons and rings that SPR is widely known for. Studying the product deeply, the designers wanted to bring dynamics and fluidity to the entire form as it would let the visitors flow through the space; the execution laudably accomplished by Falcon Exhibitions. A monochrome theme was adopted, which stood out in a sea of colour not just attracting consumers, but also establishing the SPR brand.
.
Strong lines of the piston rings are evident throughout the pavilion design, exhibit tables as well as the piston obelisk that plays a huge role in gathering audience. A metal framework with putty-finished plywood make for this interesting space complete with a raised floor and mezzanine above to discuss business.
A strong team effort with a remarkable design input enabled the speedy construction that highlighted the company brand as well as catered to their different needs.