Photography: Courtesy www.
archiprix.org/
Read Time: 2 mins
When it comes to discovering latent talent in the world of design and architecture, the biennial Archiprix
International awards beats them all!
Sensitivity is the key premise that comes forth as we view the plethora of projects vying for the
Archiprix International Award 2016 – the competition that selects the World's best graduation projects. With over 380 entries world over, the competition is tough to say the least!
It is enlightening to review the kind of topics handpicked in the 31 entries from Indian students. From an art centre, music academy and spiritual lab… conventional functionality takes on a new garb with young minds ticking on rehabilitation of mental patients, deaf and blind to an orientation centre for sainthood; memorial centre, even strengthening a human-nature connection.
Diverse projects come together under this umbrella. While you could check out the details at
http://archiprix.org/
, Team IAnD will soon bring you a low down on the jury short-list and the winning projects – especially from India.
Following are a few projects that we have thoroughly enjoyed. Do review and revert in the comments below with your feedback.
MINOR SEMINARY by Filanda Da Costa
EXTENSION OF CHARLES CORREA FOUNDATION by Qazi Saifur Rasool
URBAN COASTAL REFORM AT KASIMEDU, MADRAS by V. Visuwanathan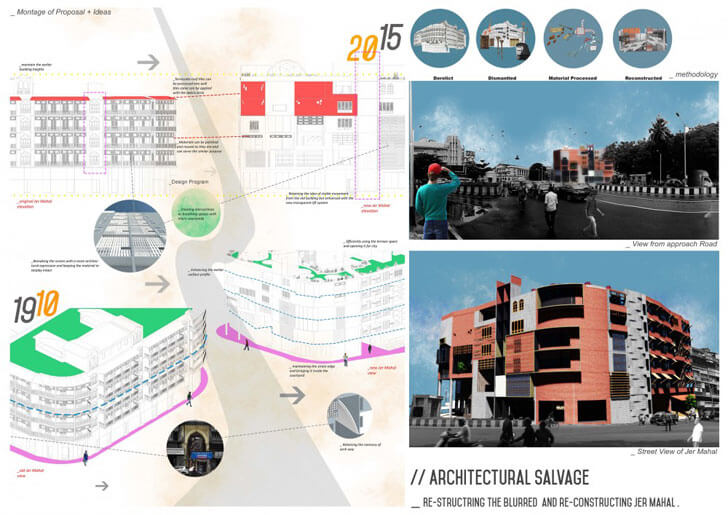 ARCHITECTURAL SALVAGE by Prashant Chavan
TIDAL CONVERSATIONS by Saroja Arunachalam
BIOPHILIA URBANISM by Ankitha Rao
REVITALISATION OF AN ABANDONED QUARRY THIRISULUM, CHENNAI by Nikhil Sriram Periaswamy
The Archiprix International 2017 has India's prestigious CEPT University, Ahmedabad as its partner. An eminent panel of jury members will be gathering at the CEPT from 19-23 Sept.'16 to short-list the 7 finalists.
Watch this space for more in the coming weeks…