By FinchD
Photography: Copyrights CEPT Archives, Ahmedabad
Read Time: 2 mins
On view from 11th August to 3rd September 2016, CEPT Archives presents the works of Ar. Arvind Talati, emblematic of the work of inconspicuous patrons of Indian Modern Architecture.
Curated by Prof Srivathsan, Academic Director at CEPT University, Ahmedabad, the exhibition inquires the ambiguity of modern architecture in India in the period following independence.
Talati with Corbusier in Bombay, 1953
Following an introduction on Talati's academic and early professional background, the exhibition displays the drawings of his works in three distinct phases, across three decades of his architectural practice starting from 1958.
Model of Jeevan Sadhana School, Baroda, 1963
Master Plan of IPCL Township, Baroda, 1970
Bank of India, Ahmedabad, 1965
The first phase presents an eclectic range of projects: from residential, industrial, and institutional to public infrastructure, which helped him establish his architectural practice.
Starting from 1968, an emphasis on housing projects is observed, with an aim to create low-cost housing with the aid of modern technology. Notwithstanding his affiliation with Le Corbusier over a period of four years, Talati has a distinct style of designing, which stems from his appreciation of the indigenous culture, climate and economy. The elements thus seen are courtyards and self-invented shading devices, with condensed spaces between parallel walls.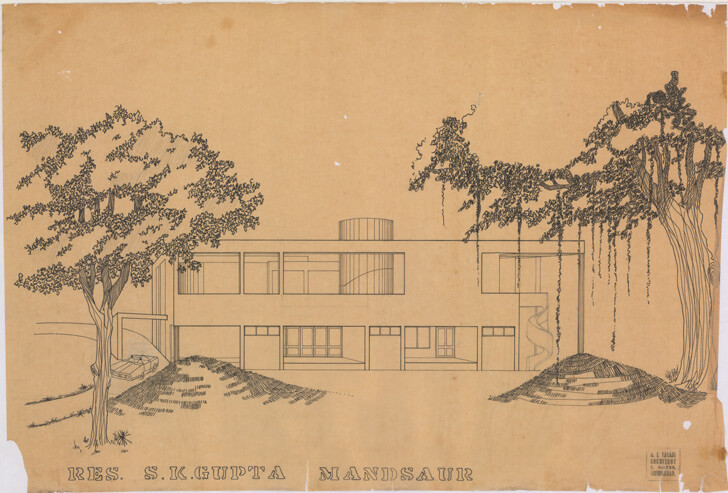 S. K. Gupta House, Mansaur, 1974
Jash House, Ahmedabad, 1972
The last phase observes a shift in style, where Talati has perhaps fallen prey to the then popular ideology of Critical Regionalism, leading to an almost post-modernist, referential approach in his designs.
Acknowledging the role of the architect as a "bearer of tradition", Dr Bimal Patel (President, CEPT University) identifies the archives as a means to make available to students and scholars, "proximate examples" of a unique architectural style. The exhibition therefore not only bridges the historic gap in Indian Modern Architecture with Talati as a case in point, but also collates information for future generations of architects.
Looking closer, one can see that the
exhibition attempts to fill such a gap in history, where at one level, it is a valuable archival endeavour; while, at another, it's an effort to expand the understanding of modern architecture in India – with due diligence to the context, climate and other solutions significant to places and people.