Photography: Courtesy Minnie Bhatt Design
Read Time: 2 mins
Nestled in a residential area of Juhu, Mumbai, is a cafe with a tagline 'Cooking up stories' that tries to bring alive the aura of fables and the joy of reading...
With bright and whitewashed interiors, cafe Fables projects an airy environment around a theme of books and stories that has been brought to life by interior designer Minnie Bhatt.
Complete with English fences with mounted flower pots; teakwood Windsor chairs with floral print cushions; chinaware on the walls and vintage lamps dangling from the ceiling, the interiors and exteriors of the cafe seem to play on narrative visual imagery.
The outside wall is made up of windows of different sizes and styles on one side and a wire mesh fork under the name 'Fables' on the other. Between the two, is a little wooden door and a birdhouse (filled with books), besides a row of green pots welcoming guests into a joyful and serene ambience. Inside, floor-to-ceiling glass and drapes divide the alfresco section from the indoor seating arrangement. Adding to this, is the little wishing well at the entrance, which takes one back to the days of bedtime stories.
.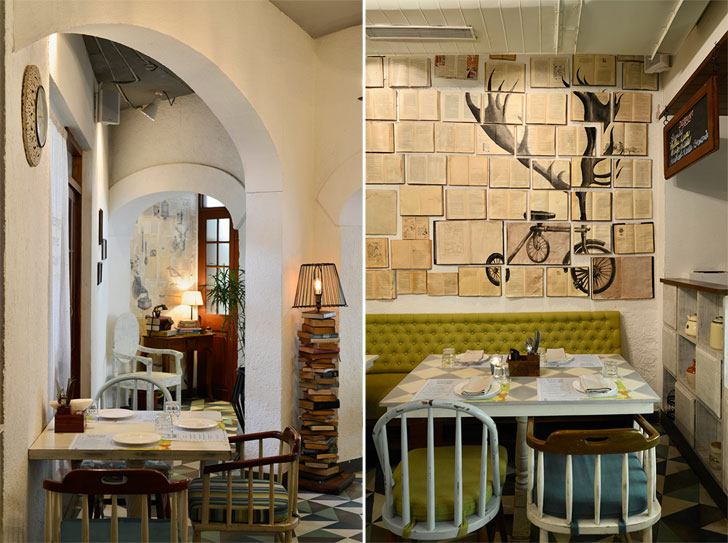 .
In sync with the theme, design elements include pages of old, yellowing books, adorning the length of one wall, while an illustration of a tricycle with reindeer horns as handlebars takes one into a world of fairytales. In one corner, stands a tall lamp made of a pile of paperback books, in another stands a rotary dial phone mounted atop a leather-bound book.
Enhancing the feel of the English culture and vintage look are lamp clusters beaming warm yellow light; eclectic mix of benches and chairs in pastel colours; cupboards and bookshelves, counters and tables in merandi wood.
.
Lending a dramatic effect to the whole space are the geometric patterns on the floor in shades of green and white; balancing the otherwise neutral shell and furniture, creating a surreal feel.
The entire ambience, in fact, is surreal; subtle yet distinct… A storybook like aura that takes one into the world of fiction and flurry and all things wonderful!