Photography: Courtesy Anjali Srinivasan
Doing away with conventional materials of décor, ChoChoMa Studios brings home a breath of fresh air with its custom-fabricated glass products…
In a world, where décor is deemed limited to materials like wood, stone and marble, ChoChoMa Studios open the gate to the world of crystal products. What started out as a fair-trade umbrella for glass artisans in U.P almost a decade ago is now a studio directed by a dedicated team of experienced artisans in the field of glass art.
As deference to owner Anjali Srinivasan's grandmother, the studio sets itself apart with its hybrid process of hand-crafted glass items.
Extending its services to numerous clients, ChoChoMa claims to be UAE's only artist-run studio that sets out to revolutionize custom-built embellishments to suit different environments.
Its repertoire includes unique objects. One such item is the drape composed of glass rings: rings of glass knotted to each other, these are scalable to any form and colour and suited to indoor tent canopies, tensile sculptures, semi-private decorative screens and table mats.
Testing their limits and creativity, these artisans have fashioned some exclusive design works like drippy effects on glass tiles and hand imprints into glass microbeads. While the technique for the former involves fused glass rods, which are subject to gravitational force and freezing at the right moment to preserve a dynamic, fluid form, their colour, composition and "Drippy-ness" effect is customizable.
A fitting approach for live interactions and memorabilia, the hand imprinted into glass microbeads can be made of optically clear or recycled tinted glass, based on specific requirements and intended effects. In fact, fused fully into a wall panel, any design can be imprinted into a bed of microbeads and commemorated into a surface.
Another interesting style of adorning space with glass is seen through the gold glass archway. In this technique, bands of gold glass are embedded into the site of a desired surface creating a glittering, lustrous effect in a desired density and pattern.
Sought as experts in their field, the studio is renowned for visualizing and creating things that are a challenge to others; a testimonial to this are three of their works that are related and based on the now-obsolete principle of the Sheesh Mahal - a temporary glass installation for a hotel in India has rings of glass balls floating in an open-to-sky indoor water body; where the glass balls are designed to bring down the sky over the dark pebbles and surrounding grey stones as the night lights shine over them.
.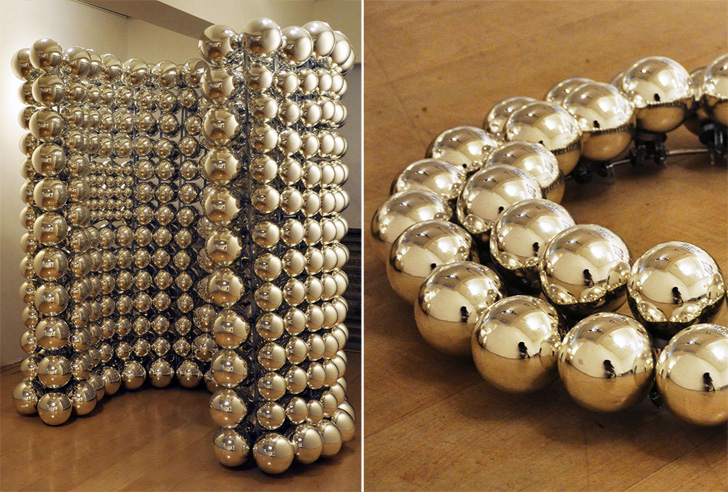 .
On similar lines, a walk-in chamber of silver balls designed using the phenomenon of infinite reflection and a reflective ceiling installation intended to light up like a night sky, when a candle is placed under it, are bespoke examples of ChoChoMa's USP!