Photography: Ravi Kanade and Subhrajit G Mitra; courtesy the architect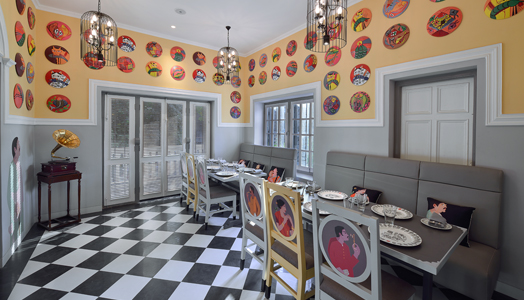 .
The design for the refurbishment of renowned Bengali restaurant 6 Ballygunge Place, Kolkata, contemporizes the region's traditionally-rich art and cultural heritage in a pastiche of pop colours and kitsch style…
Expressing itself in varying scales - such as oversized sketches on the exteriors (referenced from Sahaj Path); miniature-sized Sara paintings on wall plaques, pint-sized lamps dotting the stairwell balustrade, scaled Potochitro human figurines etc. – varied nuances urge a diner to explore further.
Constituting an integral part of good design, visual continuity is orchestrated via Lalu Prasad Shaw-inspired traditional Bengali paintings seen on chair backs and cushions whilst Sara paintings (traditional Bengali iconography) lead the eye upwards.
Similarly, by ensuring a neutral colour palette of white walls and hand-painted greyish furniture, the multitude of artworks are brought into the foreground. Adding to the narrative are light fixtures encased within bird cages - reminiscent of erstwhile Bengali fascination for pet birds.
Hand-painted wall murals heighten the overall aesthetic as some of them appear real (a man sitting on a chair smoking a hookah)!
Diligence to details comes forth via subtle and bold patterns such as etched textures below arches; delicate wallpaper; printed crockery, classic-themed B&W chequered flooring and the like.
Since the 6,000 sq.ft. restaurant is ensconced within a residential building typology, the segregated configuration of rooms accentuated by alcoves, arches and columns effect a 3-D look-feel on the first floor, while an expansive banquet hall features on the second level.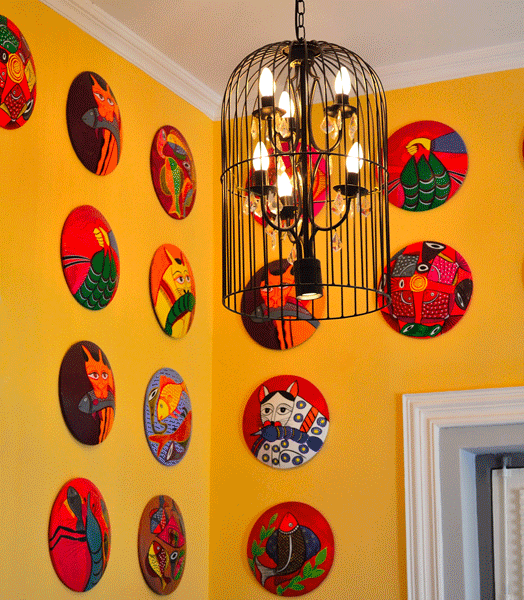 .
Moving on to the exteriors, railings as a boundary interface and fenestrations effect partial transparency while allowing chiaroscuro elements to animate surfaces.
Completing the picture are green touches which play peek-a-boo through wood-and-glass-paned windows whilst louvered doors open into balconies – providing a breath of fresh air akin to this project-specific collaboration between Abin Design Studio and Square Consultancy that ensures a good dose of intrigue and refinement for a repeat visit.