Photography: Sameer Tawde; courtesy the architects
MuseLAB Design Engine transforms a 2BHK into a 2.5 BHK apartment in a remote urban locality of Jamshedpur without compromising on any of the distinctive highlights that personalise a home...
With a firm belief that every project is a "challenge to be treated as an opportunity to create a transformative experience", the home is conceptualized with a minimalist approach. With internal walls demolished and the new floor area reorganized, spaces are well-appointed and structural elements like beams and columns ingeniously camouflage storage cabinets.
The 1000 sq. ft home has most of its custom-designed straight-lined furniture built-in and fabricated from birch plywood, finished in multiple natural hues, keeping things simple. Wherever possible, back-to-back storage ensures usage of every inch of space, where

vintage furnishings in classic forms

and common flooring patterns in a shell of earthy and pastel hues evoke a sense of continuity.
.
One might say this is an exercise in simplicity personified. Yet, it doesn't elude the elements of awe every home is highlighted with. Of particular mention is the creation of pockets of conversational spaces that anoint the home. Owing to the frequency of entertaining, the designers have subtly demarcated a dual seating in the living room and around the dining table.
Incidentally, the dining area is the mainstay of the design thinking. The large Corian-topped table with its cantilevered structural glass base is a
pièce de résistance
by itself. Complemented by a sudden burst of vibrant hues in the upholstered chairs, the table augments the illusion of space; the entire look wrapped up by a delicate chandelier that vies for attention in the otherwise spotlight-illuminated room.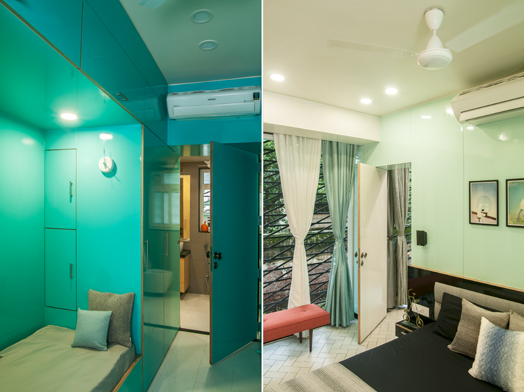 .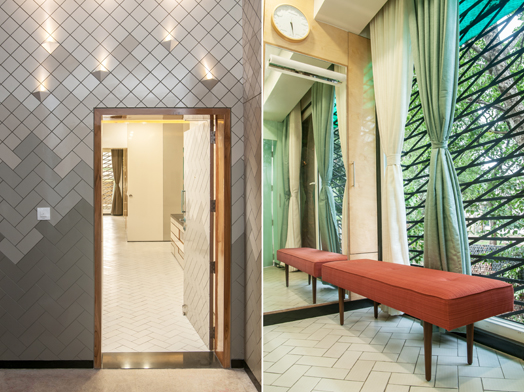 .
Another striking feature is the teal colour used in the additional bedroom. Set in the heart of the house, it helps break the neutral monotony, evoking an element of surprise. Subtle touches of quirk viz., a lamp in the living room, soothing wall treatment at the entrance, custom-designed wall art et al help complete the classy contemporary ambience.