Photography: Courtesy World Wide Web
That is what silver is all about: a quiet subtle yet extremely sophisticated statement of style that enhances the ambience through its naïve presence at the appropriate time, at the appropriate place. Flaunt it this season…
Silver has always been an important accessory in interior design and décor. While the notion of table silver dates back to the 17th century, the prolific use of the metal in lighting fixtures, orange-tree tubs, and silver-mounted furniture owe their origins to the early eighteenth century. Today, silver serving pieces such as tureens, tea and coffee sets, candlesticks, and centerpieces are replaced in their composition by silver-plated base metals but their glory and embellishing quality continues to enhance classy interiors.
Yes, its glory is everlasting. Exquisite pieces of sterling silver filigree work and carvings – on bowls, rose-water sprinklers, photo-frames and the like are a mark of our rich heritage, handed down the generations, celebrated in style.
A post war silver plated tea set designed by Eric Clements jamesbaldwinantiques.com
The silver cups, bowls, and dishes of the Tang dynasty in particular were worked with engraved and gold-leaf designs of outstanding beauty, as were the wine vessels, tables and tableware of the Roman Empire. The Romans even had their bathtubs in solid silver, often elaborately ornamented with repoussé and cast decoration. Even in India, silver ware and the exquisite silver filigree work has since time immemorial graced our palaces, where the thrones and bedsteads were heavily plated with silver ornamentation. Large pillars and columns were lined with silver as were large mirror frames lending a classical royal touch to the ambience.
Today, silver is as popular a symbol of luxury as it once was. Apart from adorning the home with choice artifacts, and flaunting the usual array of serving bowls and dishes, silver is importantly being used as an innate part of the design and décor in many an eclectic home. Blended with the other materials like wood and glass for its use in coffee tables, cabinets, worktables and tall boys, the use of silver in interiors is continuously being revived.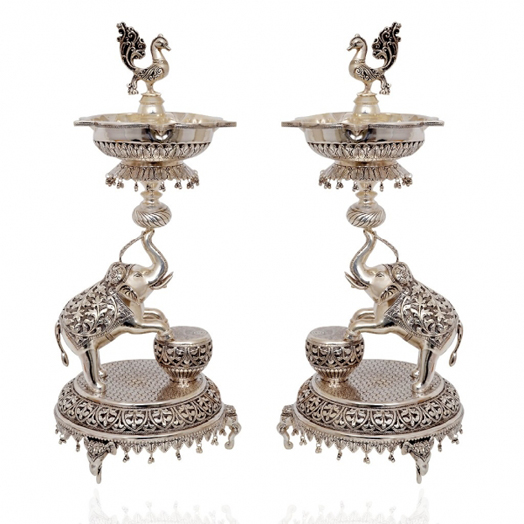 Silver elephant and peacock with antique finishing ©silverpalace.in
Flaunt it this auspicious festive season and bask in the rich feel of affluence!