Photography: Bharat Aggarwal; courtesy the architect
Ar. Kapil Aggarwal of Spaces Architects@ka, known for his diligence to detail, hones a wide material palette to chisel a Delhi home filled with a definitive style quotient.
A 7000 sq. ft. rectilinear home developed on a 250 sq. yard plot follows a modern statement of design that intersperses water bodies, terrace gardens and triple-height ceilings to create an engaging indoor-outdoor equation.
Home to a couple and their three youngsters, public and private domains are well defined and ooze a luxurious feel. Ushering in the outdoors, the home is intermittently open to the outside via terrace gardens, floor-to-ceiling windows and a skylight that bring in ample natural light.
Home theatre
Incidentally, a play of chiaroscuro elements augments the stylish interiors as spacious expanses are set off against plush accessories. Drama plays a protagonist here. There is treatment to the walls, floors, ceilings almost everywhere. A wide material palette comprising a range of stones viz., Satvario marble, Indian stone, Jurassic gold and Khareda stone; steel panels, leather and leatherette, mirror and glass and wood; and a host of processes that include laser cutting, chamfering, overlay, sand blasting, cross-cutting, cladding, paneling and the like anoint the visual panorama.
Playing texture against block surfaces and cutting the picturesque palette with wooden door and window jambs, framed bookcase edgings and wood-edged ceiling alcoves, the ambience is harmonized with a subtle colour palette and mood lighting to match. Earthy tones prevail; off set with vibrant hues in some of the works of art, which also generally remain subdued and blend with the overall muted envelope.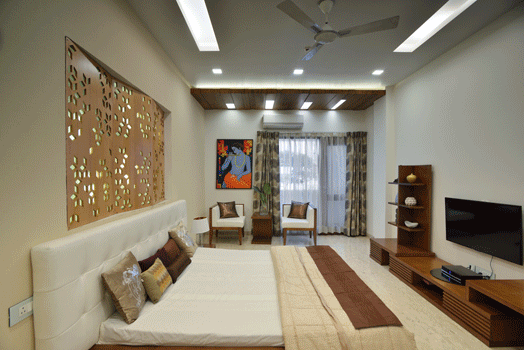 Bedrooms
Light pendants, cove and tall down lighters complete the ambience, juxtaposed as they are with ample natural daylight.
Terrace by day and by night
The home hosts a basement with home theatre, lounge and an office space with a separate entrance from front and an internal staircase connected from the ground floor lobby; a ground floor with drawing, dining and family lounge and guest bedroom; a first floor with the master suite and the kids' bedrooms and the second floor with another guest bedroom, spa and gym with terrace garden.
Staircase
It largely follows a straight-line layout, with its scale kept compact and a conscious, ingenious effort at connecting all the three floors internally with a diligent study of the sun path allowing maximum daylight to flood the interiors.