Photography: Sebastian Zachariah; courtesy BJA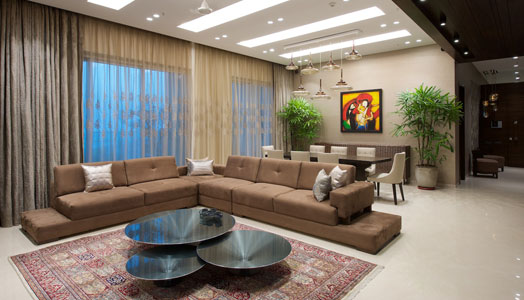 .
A studied balance of tried and tested design with trendy décor elements highlight this 4,000 sq ft, chic duplex South Mumbai apartment designed by Bhavna Jacob Architects…
.
.
Floor-to-ceiling glass panes magnify the 12 ft high ceilings besides accentuating the spacious interiors and framing outdoor vistas. The seemingly floating staircase with a glass balustrade is subtly supported underneath by a central wooden beam; whilst the walls of the stairwell are artistically anointed with motifs of sepia-tone etched birds, butterflies, leaves and branches perched on sandstone walls transforming the expansive seemingly-wasted space into an area of visual delight.
Working hand-in-glove with the clients (an IIT-educated couple with two teenaged boys), Bhavna Jacob Architects suffuse the ambience with simplicity, warmth and homeliness – their task spelt out from day one.
A tight eight-month time frame saw the blossoming of the four walls into a desirous home with its predominantly earthy palette with tonal variations seen in different areas. For instance, beige, white and brown make up the walls, flooring, furniture, curtains, blinds, soft furnishings and like. Even the paintings and rugs feature warm hues of reds, oranges and browns.
In terms of materials, wood, glass and marble act as unifying elements that seamlessly connect different spaces. Also, their juxtaposition effortlessly balances warmth with cool and homeliness with sophistication. With almost the entire flooring in marble, a few areas like the television room sport wooden flooring for acoustic reasons, whereas tiles that mimic wood are seen in the deck area.
Adding splashes of drama and breaking the sobriety of the home are well-selected pieces such as the cluster of hanging lights above the single-slab Bali dining table and pendant lighting near the staircase, or a dash of bling in the materiality of the curtains, bedcovers, blinds, cushions etc., which coalesce to heighten the overall aesthetics of this beautiful abode.