Photography: Courtesy Brio Architecture
Alternating between an imaginary house, an architectural model and a Barbie doll diorama is a cute, sturdy
900 x 1500 x 1800 mm
dollhouse designed by Architecture BRIO…
Though it came as an unusual commission, the architects took up the challenge since "it is projects like these that constantly change and challenge the processes and methods we work with," explains Robert Verrjit, co-principal of the firm.
They approached the project imagining it to be a real one but soon took liberties in designing the dollhouse. Although it is based on principles of fun and enjoyment for a child, the structure itself is far removed from trivialities. Built according to 1/6th the scale of a real house, structurally, the central cross-shaped double wall core with openings in them allows a child's hand to freely move the doll around the house.
The rooms are organized in a spiral turning around this core, starting with a garage and ending with a roof-top pool terrace, creating a narrative for play. Every room can be accessed from openings in two corners of the house allowing the child unrestricted freedom in moving things around.
Encouraging creativity and sensory development in a child due to the visual and tactile nature of play, a dollhouse therefore becomes a worthy toy for parents to gift their kids. But it is not just children, but adults too, who are often fascinated with dollhouses – some even proud owners of complete collections in different themes and styles such as Vintage, Victorian, Wild Western etc.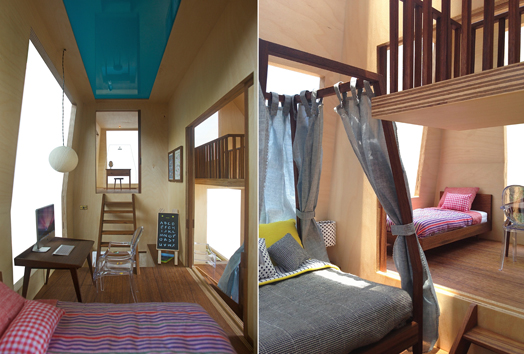 .
Weaving sustainability into the project by way of a natural material palette, the architects have gone the whole hog by not defining it by its scale. Birch plywood from a harvested forest constitutes the walls and flooring; doors and furniture are made from reused Burma teak whilst miniature furniture and furnishings along with brass light fixtures and working miniature switches take care of details. Safety issues have also been deftly handled with lighting powered through an adapter that converts it to 12 volts – making it kid-friendly.
"No project is too big or too small as long as there is love for design and an open mind for the end-product, from both the client and designer," concludes Robert poignantly.