Photography: Courtesy the architect
.
Ingenuity and a touch of whimsy cull the brand identity of young architect couple Gaurav Kapoor and Neha Bhardwaj, principals of Layers - Studio for Design and Architecture, at their studio-cum-residence at Greater Noida…
Celebratory mood and youthful vibe dotted by fascinatingly pop-artish elements, vibrant splashes of colour, texturally rich materials and abundance of natural light… breaks away from the stereotypical white-wall-regular-furniture-and-art home; engaging one almost instantaneously with spaces that evoke, provoke, even make one preen!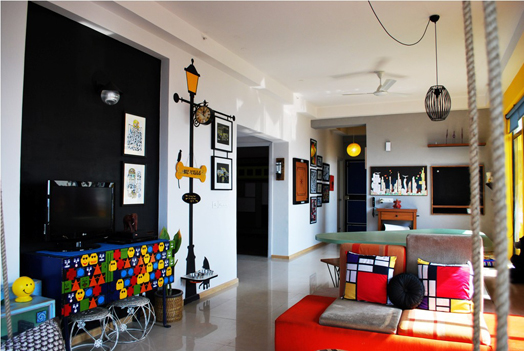 .
.
Works of art such as a cycle mural made from parts of their Santro car and Enfield Thunderbird bike or a hand-painted storage cabinet featuring characters from 'Snood' computer game or a light fixture made out of 'Nescafe' jars or a wall art sketch are just some of the quirky elements lending character to their home.
Originally a 1,550 sq ft apartment with three bedrooms, two balconies, living-dining, kitchen, store room and powder toilet, the space stands transformed into a comfy affable studio-cum-residence, strategically connected, when needed.
With minimum civil intervention, where punctured walls are fitted with windows; flexible furniture - foldable tables, collapsible bed, pop-up breakfast counter and the like, the spatially enhanced apartment now houses a suite-like master bedroom, a work-studio and a flexi 'room of requirement' that can be converted into a guest room, meeting room for studio or an empty space based on the need!
.
Their biggest peeve - the tiny 40 sq ft balconies are now lively green spaces with cantilevered planters and bench and a green wall system that celebrates humble gardening tools as pieces of visual delight.
With a narrative inscribed in almost every nook, the apartment is exemplary at proving how a little ingenuity can go a long way in turning basic ideas into a charming aesthetic statement – especially one that invites growth!