Photography: Courtesy the architects
.
Interface Architecture ingeniously transforms a compact plot into a spacious residence using split-levels...
When Interface Architecture was asked to design a luxurious and contemporary residence within a compact space, the Bangalore-based firm opted for vertical planning. The 1,200 sq. ft. home not only accommodates four bedrooms, but also a home theatre, Jacuzzi room and family area across two floors and a terrace.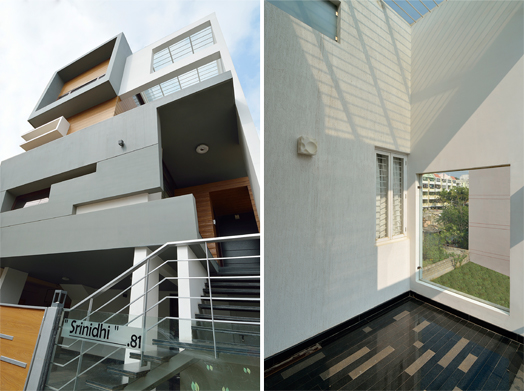 .
Known to develop dynamic spaces that revolve around the site's context and climatic conditions, the team led by principal architect Vijay Raikar, sought to utilise split-level planning across a built-up area of 3,250 sq. ft. to better complement the physical and visual connection between spaces.
So we have the two-storey structure, stacking the low-roofed garage, public and private spaces strategically stepped up from one another generating intrigue and playing with basic rectangular grids, as one would in a puzzle. Positioned at splits of 2ft, one steps up into the dining room, kitchen; whilst one steps down into the gym and family rooms among other little staggered spaces like the entrance, bedrooms and washrooms.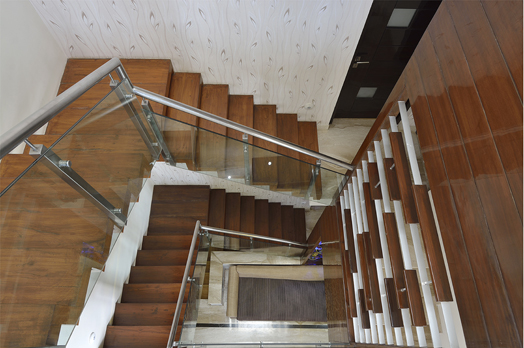 .
.
The play of levels is powerfully harnessed via a central open-well staircase, detailed in a metal and wood finish, bathed in a pool of natural daylight through the skylight above.
Structural considerations are ably complemented by a neural material and colour palette, where whites and greys predominate in an ambience of textured wood and natural teak amidst Italian marble and glass and metal inserts viz., an etched glass sliding door, glass railing, a metal pergola on the double-height terrace and a metal and wood decorative full-height installation that functionally doubles up as a railing and offers a striking visual connect.
.
Plush pockets like the Jacuzzi and the home theatre are discerningly paired against the rest of the home, together, exuding a lavish aura. Mood lighting completes the picture, accentuating the strong architectural vocabulary, besides lending the home a lived-in appeal.