Photography: Courtesy the architects
An interior project with façade treatment, executed by KNS Architects, Mumbai readies a 7500 sq ft triplex penthouse, overlooking the skyline of South Mumbai to exude the feel of a bungalow, bathed in luxury…
'Hung' façade of the penthouse, perched on the 21st floor of a high-rise spells out the primary intent of its design - creating a villa in the sky! An 'outside to inside' flow is adopted in terms of design, considering the 'larger-than-life' backdrop, provided by the skyline. The façade, entirely made of glass windows and doors of varying dimensions creates distinct volumes in space, besides opening the floodgates of daylight into the house.
The apartment evokes a bespoke intrigue in almost every pocket; viz., a 6" deep Lilly-pond on the deck adds a novel dimension to the immediate environs of the house with a 19mm-thick toughened, extra-clear glass floor cover that partially accommodates a couple of bar-stools right in front of the bar counter. False ceiling rafters, made of BTC add a canopy-like feel and warmth to sections of bedroom, living-room and kitchen; while the ceiling of the entertainment-zone is designed in teak-wood and frosted acrylic in a mesmerising geometric pattern with awe-inspiring illumination.
The staircase is designed as an element that unifies all the volumes of the house, and is accorded a pride of place in Sky Villa. Treated as a sculptural feature, the cantilevered staircase, fabricated in steel and finished in Italian marble (Black Marquee) is illuminated along the railing augmenting the striking aura it exudes.
Key walls in the dining hall and bedrooms are treated with 3-D murals. Every such wall has a unique identity in terms of design and material palette. Satvario Marble has been used extensively for flooring, along with a mix of Black Marque, wooden-finish tiles and leather tiles. Wooden-finish CPVC frames adorn windows and doors.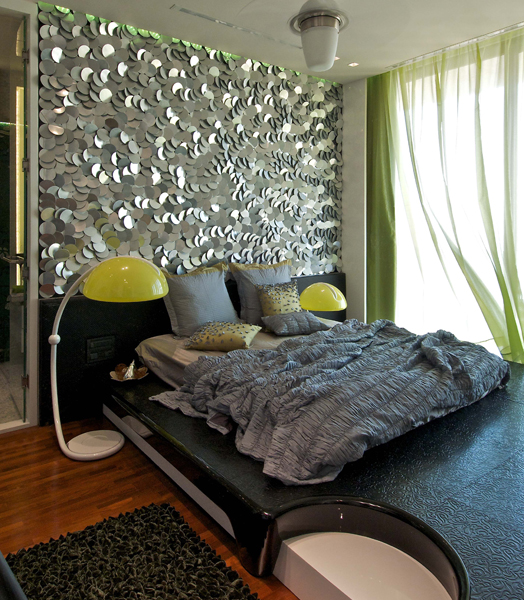 ,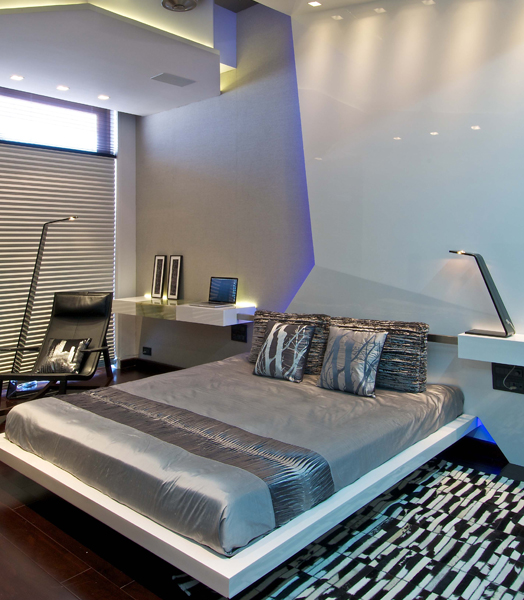 ,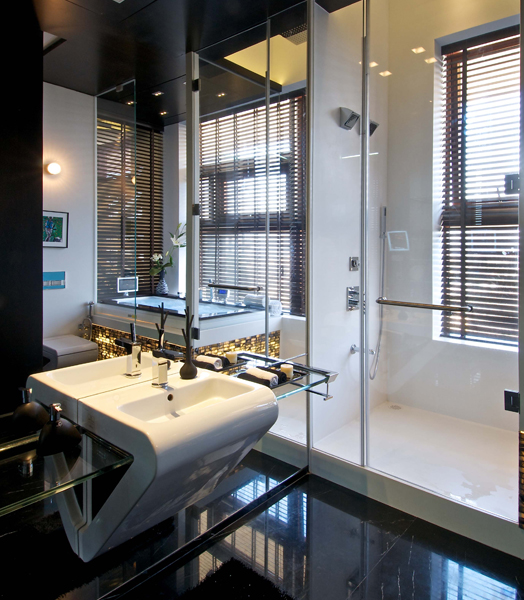 ,
Mirroring the design intent of its architects - "Every space must fulfil a purpose with bespoke style and elegance", the house has found a place in the latest edition of the book, 'Fifty Luxury Apartments in India', besides winning accolades and awards for the architects on local platforms.