Photography: Courtesy the artists & KGAF 2015
The Kala Ghoda Arts Festival 2015
The Kala Ghoda Arts Festival 2015 (KGAF) seems bigger and better! Bigger - not in area but in volume; in the core essentials that make up a holistic exchange platform...
Art is a potent tool. As a messenger, it can fluidly flow into/through innumerable and seemingly-insurmountable barricades to penetrate at a level that is rudimentary and simple; the comprehension of the issue in focus simplified and successfully conveyed. Whether the impact is fleeting or leaves its mark is another matter altogether; but the very fact that there is an impact and that several diverse issues can be highlighted and awareness spearheaded, is a laudable achievement by itself.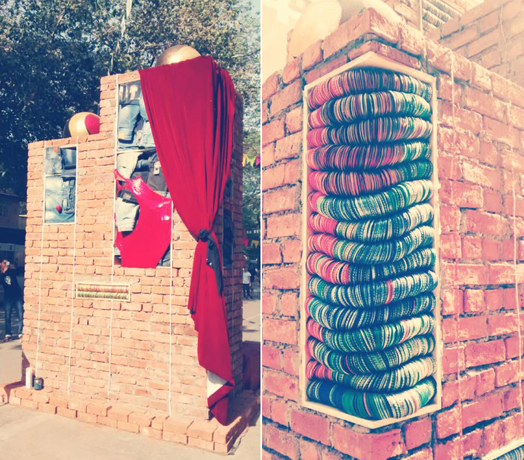 "EthnoMod "- by Pepe Jeans and Kisalay Vora -An amalgamation of ethnicity & modernity
supporting the society in equal capacity
Kudos to the teamwork that presents the KGAF year-after-year, reinventing various social and cultural lacunae for the "visual arts as awareness" campaigns. What would seem like an incomprehensible, highly intellectual congregation of material and thought in the stern ambience of a white-walled art gallery has been brought into the midst of the hoi-polloi as an interactive art installation, where the artist and the viewer climb the same platform through a medium, fostering a rich exchange, and possible problem-solving.
"Avasosita" by Aboli Shah and Varun Gala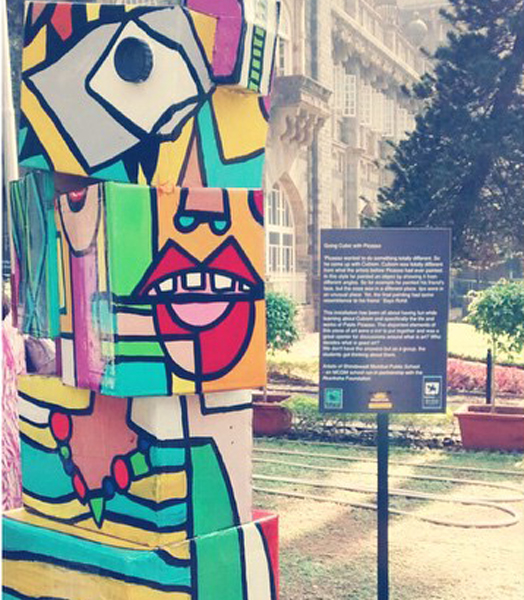 "Going Cubic With Picasso" by Shindewadi Mumbai Public School
This year, besides its other workshops, ethnic art and craft promotion, dance performances and tableaus, and celebratory oeuvres, KGAF presents about 40

interactive art installations and photography displays that play with your senses and sensibilities. The thematic for this year's festival is 'Touch' and diverse artists - solo and in group efforts strive to surprise, shock, entice and compel the viewer to look beyond the photo-op and gain a little more.
"

Kissed by the Wind, Touched by Joy" is a simple congregation of cycle wheels with coloured glass inserts that are reminiscent of happy childhood play with the pinwheel. "It spells carefree freedom, wind, colour and smiles", says artist Sweta Poddar, dabbling in an art installation for the first time.

Artists Uttara Joshi, Anjum Motiwala and Deepti Nair interpret touch or sparsh with a cuboidal vertical mass-upon-mass "Contrapuntal" that in its various frames speaks of positive touch (helpfulness, gratitude), negative touch (abuse) and rues the inconsistencies of a technologically advanced being, who misses out on the quotient of 'emotional touch'.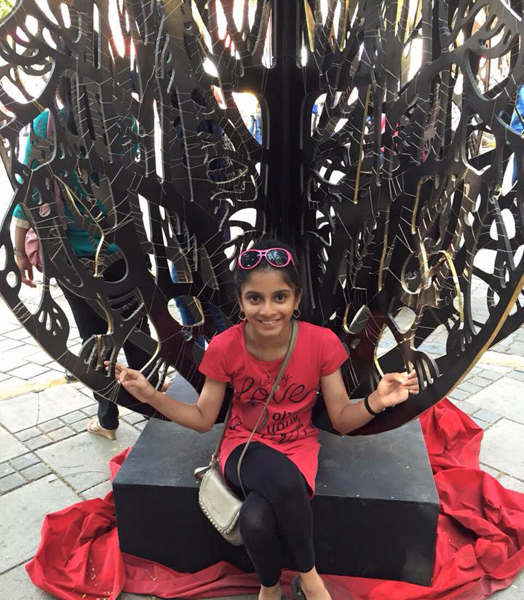 "Tree of Life" by Reha Shishodia. The touch of
Wisdom, Protection, Beauty, Redemption, Abundance, Strength & God's Grace.
Another young artist, Reha Shishodia, who has participated earlier on too, and who has begun to be identified by her installations opines, "This is the perfect platform to interact with both, the classes and the masses. One gets to know, where one stands in the public eye and introspectively too, one is challenged to break free and express oneself in an interactive 3D format."
And there are more; so so many more... Although all installations do not perpetuate the thematic directly, they do engage the audience in a bid to ruminate on some serious societal thought.