Photography: Sachin Bandukwala, Melissa Smith and Sam Stalker; courtesy banduksmithstudio
Nestled amidst a small thicket on the outskirts of Ahmedabad, is a newly-constructed 3,100 sq ft lounge space

annexed

to the existing farmhouse, designed by banduksmithstudio…
Designed for a wholesome recreational feel with pool, lotus pond, et al, the pavilion-like lounge sits as a glass box, seamlessly in synch with its surroundings and connected to the farmhouse via a bridge that ensures a green and open exchange between the two structures, and privacy, when needed.
.
.
.
Wrapped in a simple palette of teak wood, mahogany and slate, the steel-and-glass construction stands tall with a mezzanine constructed from recycled industrial teak wood slats. Three skylights puncture the ceiling in memory of the three trees lost for the sake of this space as the living area below is designed to host both, quiet evenings and uproarious dance parties.
.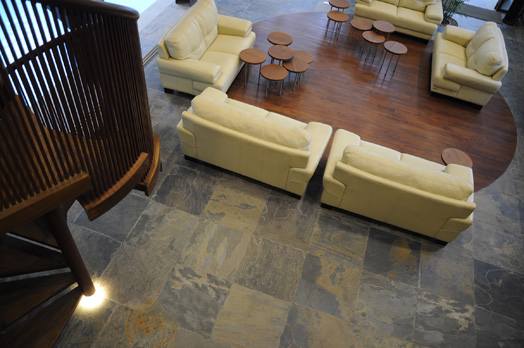 .
Open and welcoming, the clean and straight-lined spacious feel is augmented by a juxtaposition of rustic with smooth and traditional with contemporary elements. For instance, slate flooring works in sharp contrast to tel paani-polished teakwood (an Indian technique of alternatively using oil and water to polish wood), while traditional mahogany and teak wood foster warmth to the cool and contemporary glass-and-steel structure. Ably complementing this homeliness in the ambience, the steel structure floats at places; while at others, a wall constructed either outside or inside it, uses a fat infill of fly ash brick at the periphery.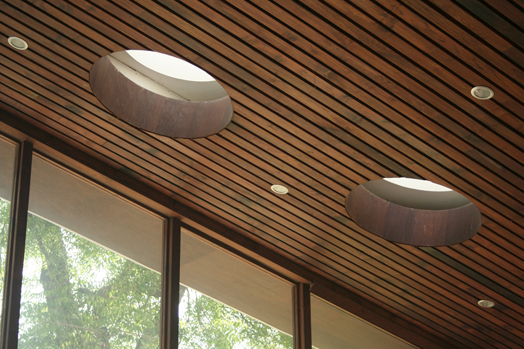 .
Diligence in detailing is seen in the creation of a 'magic box', where pipes, wires, a/c outdoor units etc. are not only concealed but also double up as a seat, bookshelf and a railing. It is also observed in the unhindered access to the pool, both, at ground level and the cantilevered mezzanine, where large sliding glass doors are designed to open and completely disappear from view. Adept and elaborate detailing also goes into the curtains-system in place as well as orienting the lounge climatically.
Aimed at engaging the new with the existing, the firm carves out with aplomb, a modern architectural vocabulary (composite structure of steel, RCC slab and brick walls) that aptly responds to the pitched-roof house as well as the lush landscape!