Photography: Courtesy the architect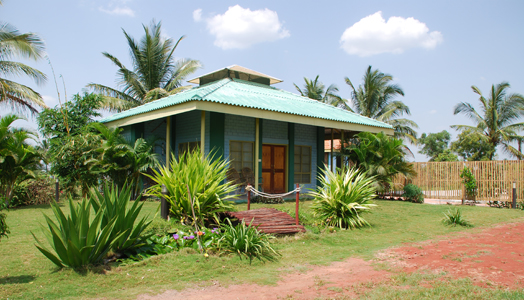 .
A holiday home in Maharashtra adopts an environmentally friendly approach in its rustic aesthetics and structural techniques...
Architect Pramod Chaugule designs a two-storey holiday home for his client Nitin Nayak, annexed to an existing structure comprising a living room, kitchen and bedroom. The new structure, on the 8094 sq. m. plot, adds on a sit-out area, master bedroom and library, resulting in a full-fledged weekend getaway.
The new façade is coherent with the existing one; both have been redesigned to exude a solid, earthy feel using such local materials as cream Gokak stone and black sun-dressed pointed basalt stone. Their roofs are congruent; thanks to perfectly matched slopes and the use of Mangalore tiles for an ethnic touch.
.
Recycled steel, wood and bamboo feature widely across the home, as does exposed brickwork. While minimal wooden furniture lends each space a sense of vastness, bamboo beds and cupboards usher in a natural appeal. Wooden flooring and exposed brick walls against yellow, orange, brown and off-white peppered with green, seen on the home's décor, drapery and walls, carry forward this earthy look.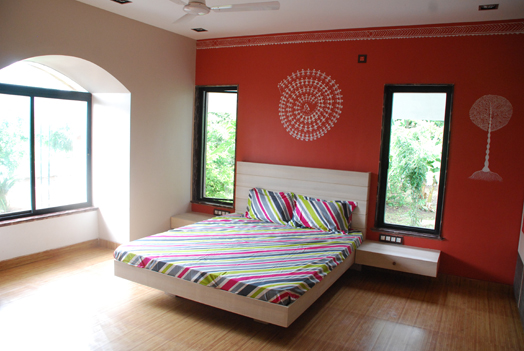 .
Large glass windows ventilate the rooms and bring in ample sunlight. They also promote a sense of transparency within the home, besides connecting the interior with the verdant exterior. A bamboo courtyard at the centre of the house creates an interesting focal point and can be seen through all living areas.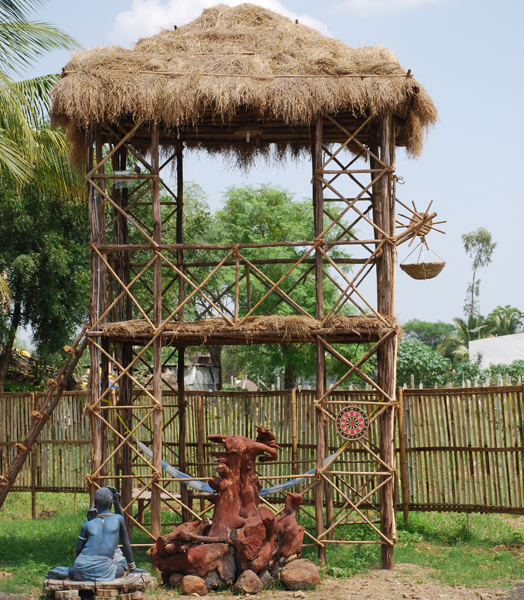 .
Outside, a free flowing swimming pool, and a bridge and stilted lookout (machan) crafted from bamboo, merge with the natural surroundings. In keeping with the home's eco-friendly appearance, the architect also diligently applies energy-conserving technologies and landscaping that completes his vernacular approach to architecture.