By Beverly Pereira
Photography: Courtesy the architects
.
Design Plus Associates embraces an open-plan layout in its industrial-themed office, interspersed with dramatic elements...
Punctuating a monochrome approach with striking graphics, art, pin-up panels, ceiling elements and highlight furniture, DPA defines its architectural and design sensibilities with a touch of simplicity and élan.
.
As Architect and President of the company, Sonali Bhagwati informs, "The design language found its take-off points from the near-complete façade and the white, grey and black colour of Alucobond and glass; as much as from the existing haphazard
structural elements on the floor plate." Translating the architectural aberrations into a design element, a
n unstructured orange streak - symbolic of the firm's colours - runs along the coffered ceiling with exposed services, unifying the randomly placed pillars and walls within the office. Another limitation, the staircase, is transformed into an eye-catcher with floor-to-ceiling graphics in white and orange, and black and white project pictures with orange highlights.
The interior is a play of just these three colours – with a fair amount of textural nuances thrown in. Like, the reception is dynamically treated with a terrazzo floor - grey slate rectangles inserted in charcoal resin; a bench signature Zaha Hadid, chairs by Vitra and the wall-mounted company logo pack an instantaneous punch in the monochromatic ambience. The only place that literally offers the break-out feel is the colourful cafeteria with its spunky wallpaper, recipe graphics and brightly hued tables, all of which more than make up for the controlled use of colour across the office.
.
Functionally driven, the two-levels of the office pertinently segregate the public areas – admin, HR, meeting, conference rooms etc., on the floor below from the more serious studio spaces above. The extensive use of glass throughout - for its meeting rooms and glazing alike, creates an airy feel that brings in natural light and offers verdant views from every work desk.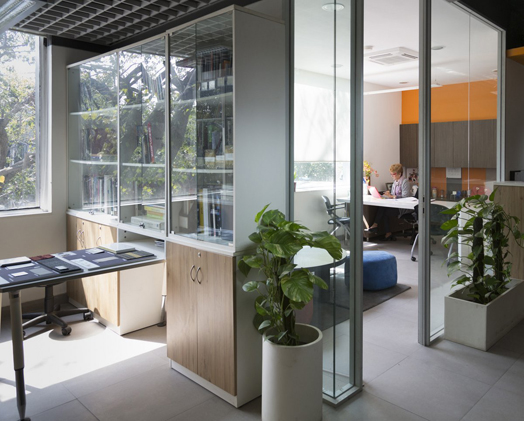 .
If the office was designed to offer heightened visual connectivity between teams for synergistic ideas and positive energy, its exteriors match this effort. The ground floor opens out into a garden adorned with Sonali's Balinese art and furniture - an oasis-like space that blocks out the urban chaos.