Photography: Courtesy Collage Architecture Studio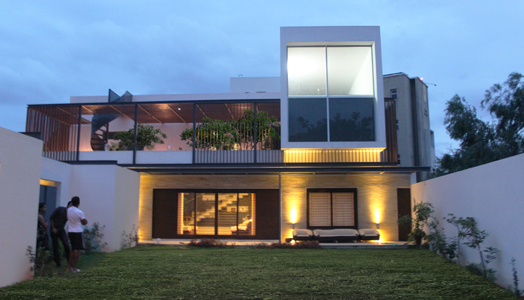 .
Symmetrical lines, geometrical spaces and large windows dominate the structure of a 450 sq.m.
villa designed by Collage Architecture Studio.
Bengaluru's Vishar Villa was designed for a family, who were used to their courtyard-style house in Tamil Nadu. Incidentally, this was one of the biggest challenges - the architects had to conceptualize a contemporary structure, which was reminiscent of the old family home. And they seem to have accomplished this with aplomb!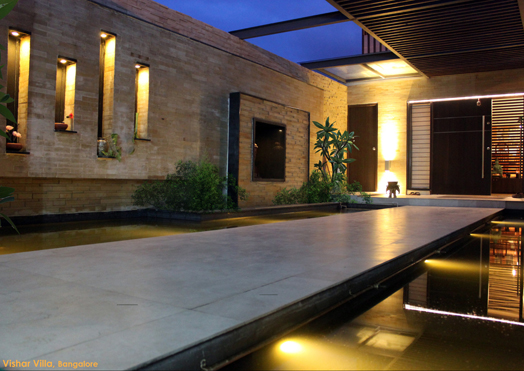 .
Walking you through - a narrow access from the dramatized entrance opens out onto a floating walkway, where warm sandstone walls and shallow water body chaperons you to the main door.
As Ar. Karthik poetically explains, "The main landscape and pool area peek furtively from between the slits in the walls that subtly suggest luxury enveloped in privacy."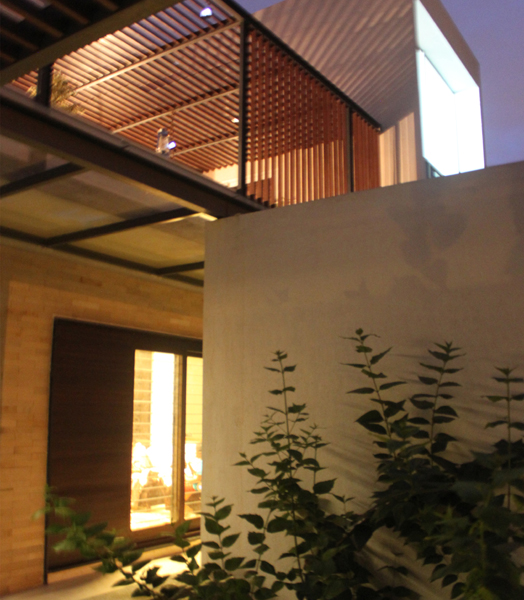 .
.
Meanwhile, an array of wooden pergolas over the porch maintains an intriguing play of light and shadow, while large windows and the skylight over the central court allow abundant natural light into the home; and bold linear slits and uninhibited shifting of solids and voids between the roof and walls add drama to the design. Symbolic of the native homes in Tamil Nadu, reflective black granite defines the central space with depth.
The ground level is planned with common spaces and guest room around the central

court

, but on varying levels. On the upper level, a cantilevered staircase leads to three bedrooms and a terrace that boasts of a complete view of the main garden below. Architecturally and adding another dimension to the interior, the mezzanine floor in the children

'

s identical double-height bedrooms serves as a visual access between the two rooms, besides appearing as an attention-grabbing mass on the exterior elevation.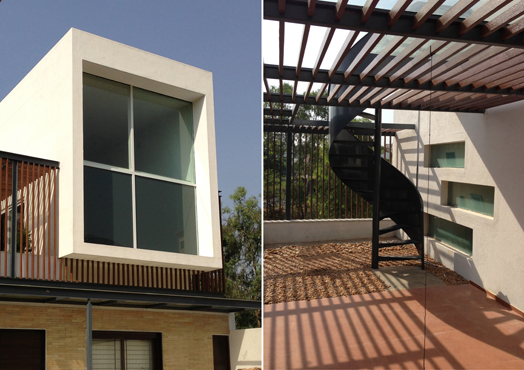 .
The home is anointed with a simple palette of browns that add warmth and accentuate the architectural features; and white, which lends a sense of simplicity and elegance, while it acts as a canvas for other elements. Screens of wooden louvers and pergolas effectively shelter the inward-looking house from the surrounding tall buildings; without compromising on the traditional elements (inner courtyard) aspired for.
As is the case with their general design sensibilities, Collage Architecture Studio ensures the house is "not broken down into various rooms" but "strategically segregated" and "visually connected". Vishar Villa stands loftily as a bold and contemporary structure that creates a constant sense of dynamism with its unrestricted shifting between solids and voids, chiaroscuro elements, and multi-levels.