Photography: Prashant Bhat; courtesy GA Design
.
Several aspects define building design: locale, context, function, occupancy… that become significant determinants of the final architectural make-up impacting cutting-edge dynamism that is the order of the day...
While designing Arena Space, the eye-catching blue glass high-rise that captures one with its simplicity on JVLR road, Mumbai, architects Rajan & Sachin Goregaoker of GA Design have oriented it towards the north to keep it open to the skyline with three sides encased in glass for uninterrupted strategic views; whilst the services are relegated to the south.
.
Conceived on the lines of a fluid ribbon, which originates from the ground and wraps around the building, dynamically spiralling to the terrace, the seemingly simple glass box is literally wrapped in this ribbon, catching the eyes of passersby – a distinctive design in stark contrast to its surroundings.
.
The commercial office building exudes a strong workplace identity, where each of its Vaastu-compliant seamless large floors sits on a rectangular plate, hosting a single office fit-out. While the lower three floors constitute a triple-height lobby on the west side, the ribbon element expands and contracts on certain floors, exposing the refuge decks at random intervals. As it reaches the top of the building, the ribbon angles out dynamically to provide a perfect branding location and then extends out beyond the terrace level. A glass lift core on the west side holds the building together with the ribbon on one side and a glass facade with vertical aluminium fins on the other.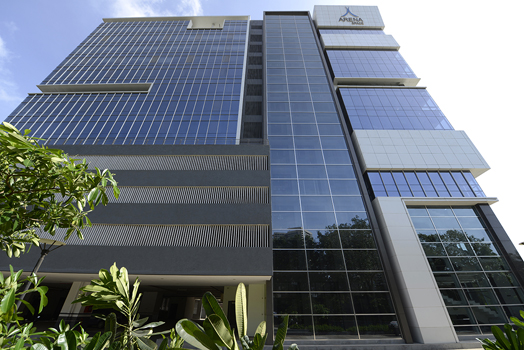 .
The structure in all its simplicity succeeds at accomplishing an interior filled with natural light and openness, while architecturally challenging the mould of predictable form and design. Being a commercial building, the glass facade is essentially a combination of several materials like dark granite columns on the lower floors, aluminium cladding, aluminium extruded sections and high performance glass.
With the west side completely exposed, it was diligently decided that the glass used to shield the sun and minimize heat gain in the interiors, would be high performance blue glass. In the age of iconic architecture that tends to make a statement by its sheer presence, the Arena Space building stands out for its understated aesthetic, ensuring a comfortable environment for its occupants, while it impacts and reflects upon the dynamism a business conglomerate would naturally like to be associated with.