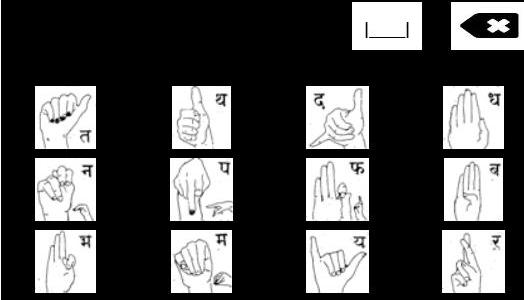 .
Translating the premise 'technical progress that does not encompass all facets of society is baseless', four students design an app that bridges the communication gap between normal folk and the speech and hearing impaired.
What started off as a syllabus-desired project in fulfillment of a BE degree at
Vishwakarma Institute of Information Technology, Pune,
turned into an Android app that caught the fancy of the media and consequently became a lifetime experience for its four young developers, Apeksha Bhat, Sayali Bora, Shubhangi Yerolkar and I, Nisha Advani, under the guidance of our tutor, Dr. Kailas Patil.
I have interestingly noted that Emotional Quotient (EQ) is undoubtedly one of the most quoted buzzwords by hotshot corporate bosses, mentors and management gurus. Teamed with Technical Quotient (TQ), a term that's lesser heard of; my observations have recorded an amalgamation of the two seemingly disparate realms; and this insight marked the start of my little journey in developing this app.
Using an especially designed keyboard as interface, the Speak4Deaf app converts text typed in sign language into speech, thereby enabling a mute individual to 'talk' to a normal person and aiding the hearing impaired to 'listen' into a conversation; as the app also converts speech back into sign language, partially using the services of Google speech-to-text processing API.
So what makes Speak4Deaf different from the plethora of text and speech conversion apps on the Android market?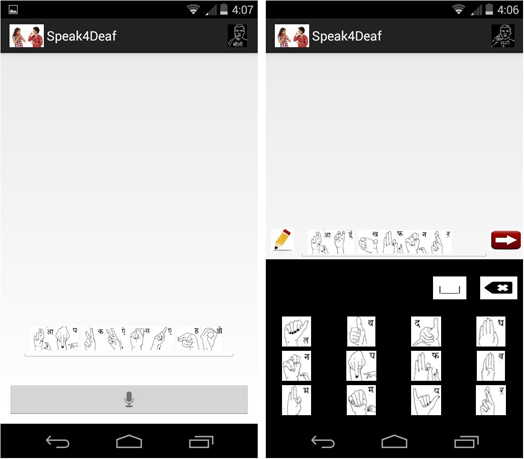 .
Basing this app completely in Hindi and using only the Indian Standard Sign Language for the interface was the biggest developmental challenge; and it is this feature that distinguishes our app from other apps that serve similar purposes. It promotes the usability of our app in India, making it possible for even a rickshaw puller or a vegetable vendor, who need not know English, to use it for communication on-the-go.
We conducted our research at Aadhar Deaf School, Pune, sitting in their classrooms, interacting with their faculty and principal and getting to understand their special needs. The exercise proved to be an eye-opener and we were inspired to contribute in whatever small way we could to bridge the communication gap between them and us.
Today,
sponsored by VIIT,
the App installed on a smart phone, is being used by these very students at Aadhar.
As students of technology in this privileged galaxy of intellects, it is our responsibility to work for the betterment of society. Thus, when EQ and TQ come together, we can conjure wonders that not only speak volumes for us as a species that is at a technical zenith, but also one that is on an emotional high!