Photography: Riyaz Quraishi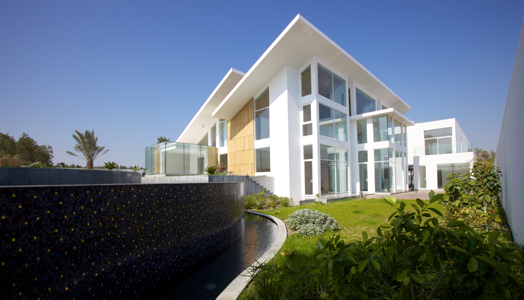 .
Standing out for its striking façade, this award-winning 'twin sloped roof' bungalow is primarily designed to adapt the home to Bahrain's harsh climate...
Overcoming their biggest challenge of integrating the surroundings with a weather-proof, contemporary glass design, architects Riyaz and Simeen Quraishi of Hyderabad-based design firm Moriq, have responded to the desire for a contemporary home (with lots of glass) insulated from the sweltering summers and damp winters. Deservedly so, the home in Hamala, Bahrain has, a few days back, won them the 'Glass House' category award at The International Design and Architecture Awards 2014.
.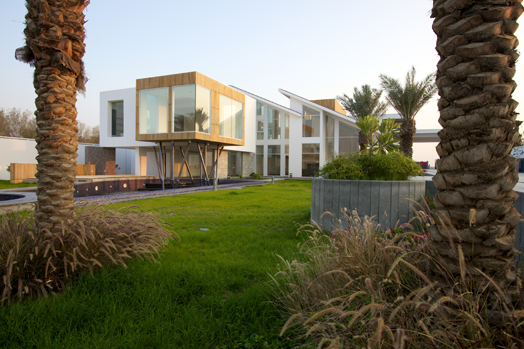 .
The spacious 12,700 sq. ft. bungalow standing on a 4,308 sq. yard plot shows a dramatic hierarchy of level play: bedrooms feature on the upper level; living areas on ground level; two extra bedrooms along with a gym and a temperature-controlled swimming pool are tucked in mid-cellar, while the home theatre sits within the cellar. Erected on stilts over the pool, the master bedroom enjoys a unique position.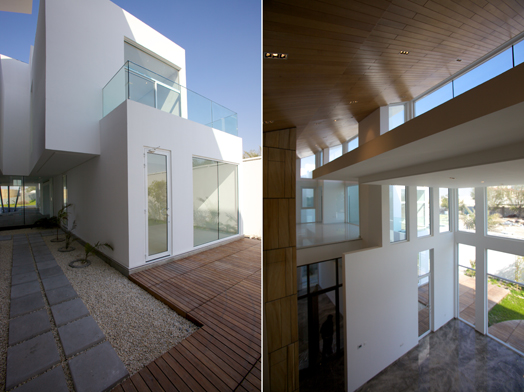 .
"We planned to submerge part of the house to escape the summer heat, while integrating the landscape with various changing levels on the inside," says Simeen.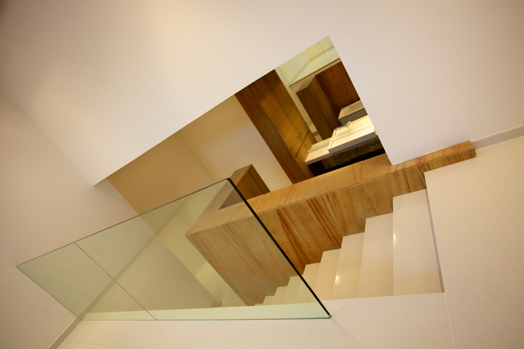 .
Diligently mapping proportions, service areas are huddled at the centre, while the living and bedrooms line the periphery of the home enjoying natural light, ventilation and vantage views. The glass walls and windows suffuse the lower levels with light and become the quintessential connection to the outside.
.
Interestingly, use of a similar colour and a restricted material palette for the interior and exterior further strengthens the indoor-outdoor visual connect. For instance, the wooden ceiling in the interiors is the same shade as the sandstone used for cladding the facade.
.
Also, the façade bearing the twin sloped roofs confers varying heights and dimensions to the interiors such as the awe-inspiring triple height dining room; thus evoking earnestness on both the sides. Completing the axial relationship is a long narrow water body that traverses along the north-south span of the bungalow, culminating into a snail-like waterfall at the northern end; mimicking the juxtaposition of changing levels in the outdoor landscaping as well; truly unifying the design.