By Marina Correa
Photography: Tejas Shah; courtesy the architec

t
The under-construction building of Witty International School located at Malad, Mumbai, treads the progressive path of knowledge-sharing via a fluid design sensibility…
The project was challenging right from the word 'go' because Shailesh Veera and Meetali Kamath Nerurkar from Spirit Architecture & Interiors had to design two levels within the basement area.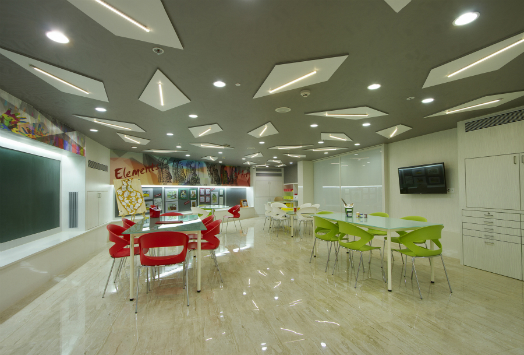 Art & Craft Studio
"We proposed a strong design to mollify the lack of natural light and ventilation," informs Shailesh. Working with a visionary like Dr. Vinay Jain, the client, Shailesh also had to rise up to his client's ambitious plans of setting a benchmark for Indian school design.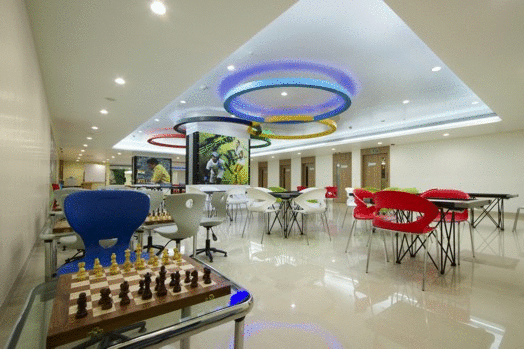 Games Room
Inspired by fiction and fantasy films like Avataar and Journey to the Center of the Earth, discovering 'worlds within worlds' became the pivot around which lateral and corollary ideas emerged.
The Library
The Library
For example, the library becomes the epicenter for fluidity in design, where a waterfall surrounding a double height column, asymmetrical ceiling patterns and lighting etc, takes the theme forward; metaphorically, so does the flow of information, transparency, sharing, adjusting etc.
Remedial
With a variegated material palette such as Bottichino Italian marble; vitrified and vinyl tiles; carpets; digitally printed wall panels; acrylic solid surfaces, painted spaces; laminates; embossed acrylic words and quotes; glass films on railing etc. – there is a huge diversity that adds on elements of the unconventional.
Computer Lab
Shailesh has cleverly managed to weave in sustainability through diverse spaces/elements by doubling up their original function thereby making them a potential tool for education. For instance, columns form a backdrop for a waterfall or become an in-your-face vehicle for informative 3D posters; a glass railing educates through the 'Great Indian Timeline' graphic; multi-coloured Olympic rings used as a lighting feature herald a subtle message on winning, thus inviting students to explore new perspectives on learning.
Even though only the 8th to 12th standard is functional at present as the entire school is yet-to-be constructed, the design manages to evoke curiosity among the student fraternity. And yes, it does rise up to its intent of progressive building design.