By Savitha Hira
Photography: Sanjay Puri Architects
Ar. Sanjay Puri does India proud as the only Indian architectural firm to win 'across categories' at the MIPIM 2014 Awards…
The name says it all – 'Sky Courts'. Assimilating native architectural sensibilities into the contemporary fabric, Ar. Sanjay Puri has designed this high-rise residential building in the heart of Mumbai, without compromising on natural light and city views; creating instead an introverted design typology that exhibits an organic character, in absolute contrast to other vertical buildings in the vicinity and to generic skyscraper perception.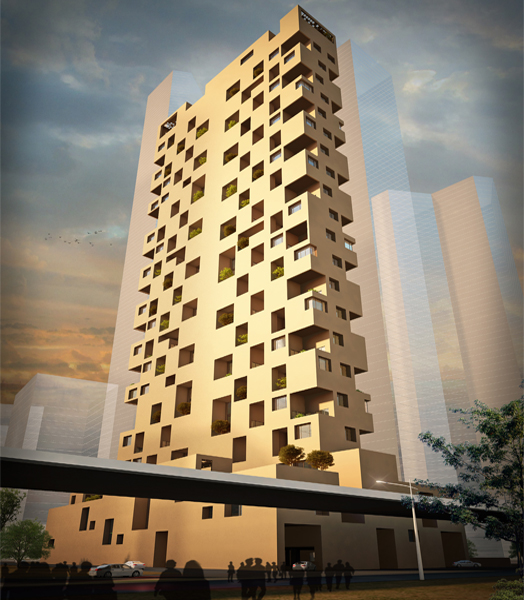 .
Proposed on a site bustling with mushrooming high-rises in a district ruled by mills-redeveloped buildings for residential and commercial use; also with a large fly-over in close proximity, the building footprint challengingly follows a layout that incorporates the traditional Indian courtyard principle and has greenery in every apartment. Solar power, water recycling, etc., are catered to for energy efficiency – the biggest plus point being cross ventilation.
Housing only a single apartment on each floor, the 22-storey building, which may appear dwarfed amidst its much taller brethren - 60-80 plus storey towers in-the-making, is marked for the luxury segment with 3 bedrooms, living, dining, utilities and servant's quarters. Besides, each room is proposed to open into a pocket terrace garden.
Mumbai skyline views have been maintained by raising the residential quarters to level 4, with the lower 3 levels earmarked for parking. The exterior of the building is no fancy organic form, but the monolith retains Sanjay's sculptural musings via its systematically punctured façade.
Inside, enclosed and semi enclosed volumes shift on each floor creating a different layout on each level, in absolute contrast with the generic repetitive character of vertical buildings per se; each apartment designed to retain its sense of privacy amidst its imposing surroundings.
Considering the volatility of the estate market, this is a bold move by both, the developer and the architect. It is also a refreshing approach - much-needed – in the current scenario of mindless vertical growth, where natural light and ventilation are ignominious concepts and space planning leaves one with little imagination.
MIPIM, the world's largest real estate convention, in its 12th awards program of celebrating future architectural projects in 12 different categories including master planning, big urban projects, retail and leisure, offices, residential, mixed use, tall buildings, sports and stadiums, old and new ,retrofit and sustainability, had participation from several of the largest and well known architectural firms from across the world.
Sanjay Puri Architects have been previous winners at MIPIM in 2009, 2010, 2011 & 2013 having won a total of 8 commendations and one category win earlier. This year, however, the firm has etched its name in MIPIM with the overall win across categories making them the only Indian architectural firm to achieve this distinction.