Photography: Prerna Mahajan; courtesy the architects
.
Completed in just 38 days, the MRL Group office in the heart of Mumbai by O & A Architects
flaunts a distinct personality via clean lines and a simple palette
….
When MRL Group office branched out into other businesses besides transport, and even shifted base to a more upmarket area of the metropolis, the architects had to deal with acclimatizing their clients to the cultural shift in addition to their new and improved environs.
With design efforts focussed on crafting a new identity for the space while preserving the existing ethos, Obaid and Afsha Hakim of O & A Architects have exquisitely balanced contemporary style and cool elegance with optimum functionality, without making it appear pretentious.
With the company dabbling predominantly in transport, besides hospitality and real estate, several key elements like
truck engine parts as sculptural elements; and tyre-impression linear patterns on the walls
build an abstract connect.
Yet the ambience remains present-day and chic to cater to the other business clientele.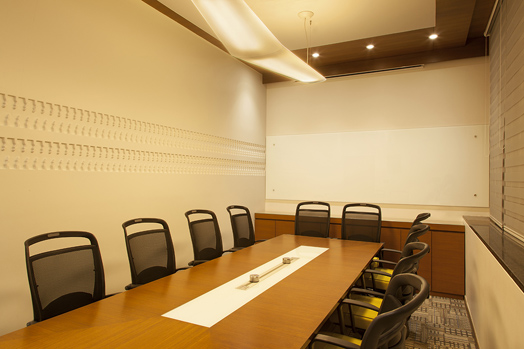 .
Faced with the challenge of completing the exercise from start to handover in just 40 days, the onus was on quick and effective deliverance. Choice of material and colour was worked out to sport à la mode refinement.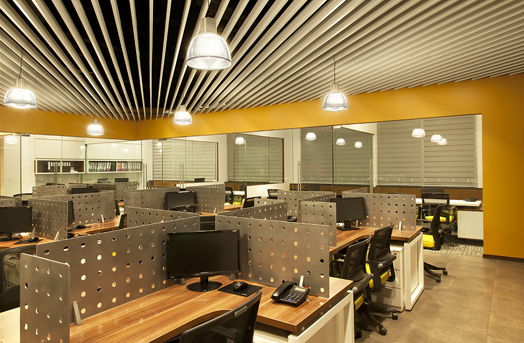 .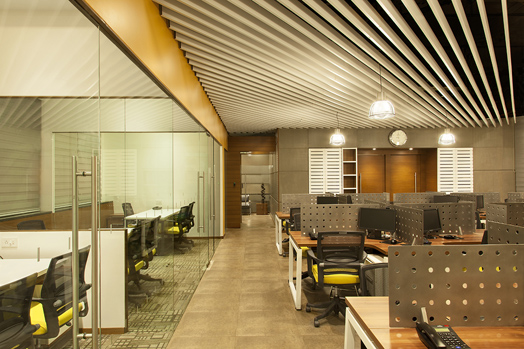 .
The 3000 sq. ft. office space sports a central open office pool with executive cabins along its periphery. Glass walls open up the area, allowing natural light to flood the space, while industrial-looking perforated partitions simultaneously facilitate privacy and connectivity.
.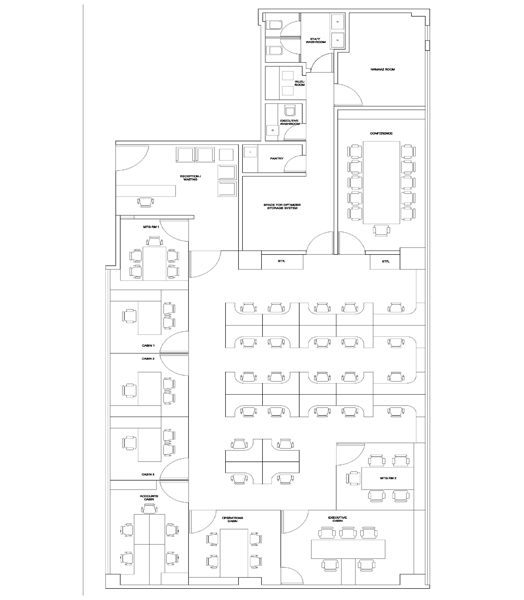 .
Clean lines dress the office with a focus on functionality without compromising on storage space, security and privacy. Grey concrete-finished tiles adorn the floor, washroom and utility areas, while only the executive cabins are carpeted. The louvered ceiling ingeniously camouflages the mandatory HVAC whilst the computer conduits are built into the custom-designed workstations. White is offset with the umber of wood and touches of lime and amber add a little zing to the interiors.