Photography: Courtesy Kayzad Shroff
The words 'second home' take on just the right nuances as this beatific beach house unravels itself to its busy metropolitan owners; instantly gratifying their quest for time out!
Chiselled into the landscape, this holiday home on the outskirts of Mumbai, India, is a large 3500 sq. ft. abode standing on a heavily contoured 7 acre plot of land on the sea front.
What started off as a simple exercise of constructing a pool and perhaps retouching the interiors for a bit, turned out to be an enjoyable escapade that not only lent new meaning to
the whole experience of holidaying (almost like having your own private resort), but bagged the project the Best Landscaping Award too.
By Day
By Night
Designed by Ar. Kayzad Shroff and Maria Leon of

SHROFFLEóN, Mumbai, the refurbishing exercise was kicked off by addressing the back of the house – the part that faced the sea. A large linear, almost 100 feet long pool is now the new hearth of the home, where an e

xtension of the 100 ft. long deck, taking advantage of the existing site geography creates an open pavilion highlighting the linearity of the white pool, and is flanked by a viewing deck opening into the water-body beyond, giving it a feel of infinity.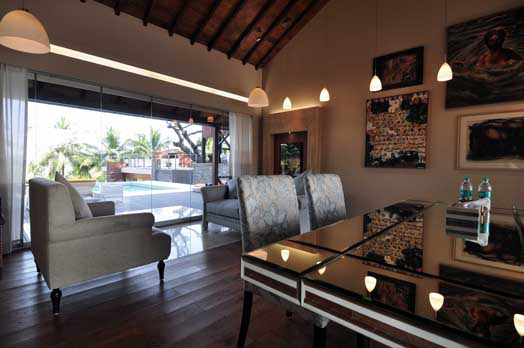 .
.
The house has been completely opened up by replacing all fenestrations with floor-to-ceiling glass openings, and orienting all living quarters towards the pool and the panoramic view. Multiple outdoor zones

of relaxation and entertainment, each with their own character, ambiance and usage protocol anoint the landscape up to about half-an-acre around the home. Further, micro zones are created with sun loungers, day beds, swings, etc., offering a variety of spatial pockets for one to choose from.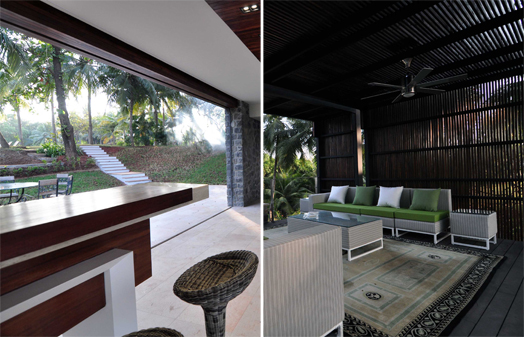 .
Materially plush, the home with its three bedroom suites merges seamlessly with the surroundings – its outdoor nature clearly setting the experiential tone of timelessness. Earthy features like a corten steel and rubble stone feature wall in the exteriors, punctured by gargoyles and the soothing sound of flowing water; naturesque enclosures; sun and sea vie for attention during the day; whilst at sundown, defined lighting enhances each of the different zones; and the pool takes on a dimension of its own, with close to a 1000 fibre optic lights, selectively illuminating every facet of the pool, revealing its inner joinery.
.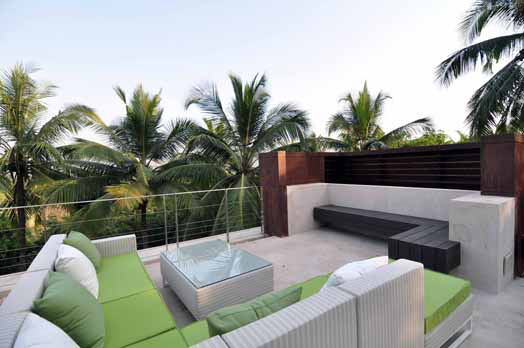 .
Here is a home-away-from-home that is replete with the essentials of luxe living and still one with nature.